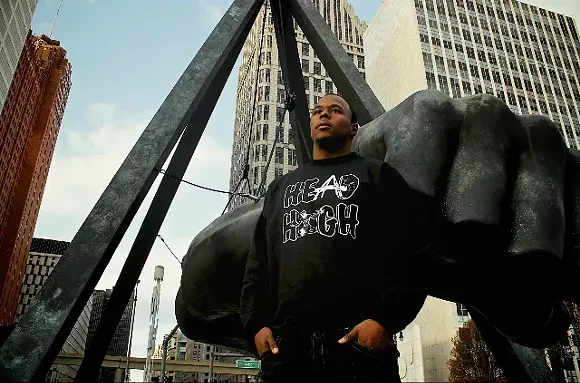 No matter how hard things get, it is important to keep your head high. That's why Detroit native Darius Beasley created his lifestyle brand, Head High Detroit, to spread positivity and random acts of kindness globally.
Head High Detroit launched two years ago, after tragedy struck Beasley's life. Losing his childhood friend to gun violence sparked a desire to create a company and a movement to commemorate his legacy.
Beasley says the concept came to him when he spoke to his deceased friend's mother at the funeral. "I told her that I would pray for her and to keep her head high," he says. "One week later after that, the concept came to my mind and that's how Head High Detroit started. The purpose is to keep everyone's head high through all they go through in life … no matter what happens; financial issues, divorce, doing bad in school — anything."
The 23-year-old works 10 hour shifts on weekdays, then he dedicates all of his time to growing his brand. Recently, Head High Detroit became the first local brand to be sold inside of the Michigan Science Center Explore Store.
"My friend contacted me about the opportunity to have my brand sold in there because she's been a big fan of my brand since the beginning," Beasley says. "She felt like it was a great opportunity for me to reach out to the kids and also adults."
Other than his hometown supporting the movement, other places are catching the Head High Detroit wave. The brand has been seen in Chicago, New York, California, and even Australia. Athletes and entertainers such as Sway in the Morning, DJ Drama, and the University of Michigan basketball team have also been wearing the apparel.
Even though Head High Detroit is only offering clothing merchandise now, Beasley plans on taking his concept to new heights in the future.
"I don't want to call it apparel yet — I want to make it more of a brand and take it more places other than clothing," he says. "Not anytime soon — but in the future. I want to have a gift store, similar to Hallmark. We will have Head High Detroit ballons, greeting cards with inspirational quotes, flower vases, a mascot for the children to go to children hospitals, and things of that nature. I want to take it worldwide."
Currently, Head High Detroit products can be purchased at
headhighdetroit.com
and Profit Vogue Studio, located on 17352 Lahser St., Detroit.
---
Taylor Bembery is an intern at
Metro Times.