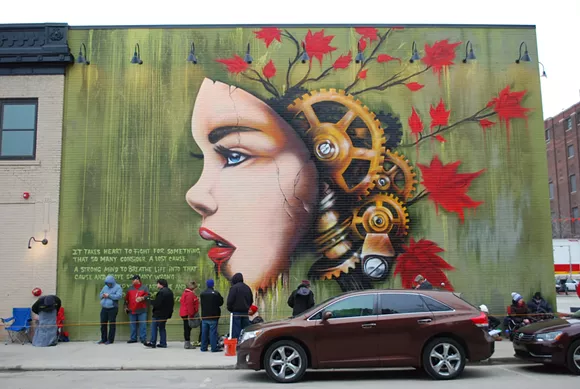 Four mysterious Detroit street artists better known by their monikers — Fel3000ft, Malt, Tead, and DEC023 — will exhibit new works in West Bloomfield's Janice Charach Gallery this weekend.
The exhibition, titled
Awesome Weirdos
, kicks off with a free opening reception from 5 p.m. to 8 p.m. on Sunday, Aug. 9. Though the artists cut their teeth working as muralists in Detroit,
Awesome Weirdos
will display their work in more of a fine art context.
"I am excited to be doing this show," Fel3000ft says in a release. " I have been friends with all of the other artists for a long time, but we have never had the chance to do a show together. It's a great opportunity to bring all of the art that is exploding onto the Detroit street scene to a new place to show its energy and relevance. I hope everyone enjoys it."
The
Janice Charach Gallery
is located inside the Jewish Community Center, at 6600 W. Maple, West Bloomfield. The show runs through Sept. 24.