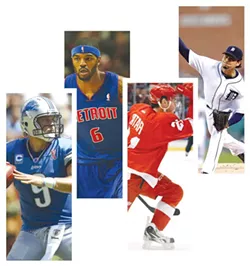 With Thanksgiving right around the corner, there are a lot of things to be thankful for. Whether it's your family, your job, your health, maybe even your pet dog, we Detroiters have a lot at our disposal. So, in honor of the storied Thanksgiving tradition of saying what you're thankful for, I'm going to give you three things to be thankful for about Detroit Sports.
We get so caught up in our anger at the teams we cheer for day in and out that sometimes we take them for granted. For example, instead of scorning Jim Schwartz for the failed fake field goal, we should be thankful the Lions aren't 1-9 like the Jacksonville Jaguars.

Detroit is one of the best sports cities in America — and that's a goddamn fact. Whether it's the ownership, the front office, the players or even the staffers who make games that much more enjoyable, the city would be a different place without these things. So without further ado, here's the list:
Tigers' and Red Wings' owner Mike Illitch: How could you not be thankful for this guy? The two teams that he owns have easily been the most successful in the city over the past 10 years. The Red Wings are rocking a 22-year playoff streak, won their latest Stanley Cup in 2008 and have been legitimate contenders every year since. Similarly, the Tigers have now won three-straight American League Central crowns and made it to the ALCS or further in all three of those years.

Now, there's no doubt both of these teams are successful because the players and the coaches. But none of that would be the case if they didn't have an owner who supported them, 100 percent. A fruitful relationship between a team's owner and general manager is the end-all be-all of professional sports. Ken Holland (the Red Wings GM) and Dave Dombrowski (the Tigers GM) epitomize how a good relationship can translate into successful franchises.

Illitch's passion, dedication and loyalty to his teams — let's not forget his propensity to open up the ole' pocket book, either — have made the Tigers and Red Wings what they are: Winners.
The Lions: While it's so easy to get down on them — I'm just as guilty as anybody for saying they're the "same old Lions" whenever they struggle in a game or lose one they probably should've won — maybe we should be more thankful for this spirited football team.

What it ultimately boils down to is that the Lions are currently a winning team (no they haven't been for a long time, and yes they still have a lot to prove), but as I write this, they're over .500. Considering this is the same franchise that went 0-16 a few years ago, there should be consensual happiness with the improvement.

Yeah, I might be setting the bar too low and accepting mediocrity, etc. etc. But when a team hasn't won a championship since 1957 — and a fucking playoff game for more than 20 years — I think it's fair to have pretty low expectations. The Lions might not be what you want them to be (ever), but they're still in playoff contention — something everybody should be thankful for.
College sports: With football winding down and basketball ramping up, we've got a month of riveting college sports to watch. Whether it's the Big Ten Championship game that will likely showcase the Michigan State Spartans on Dec. 7, or the Puerto Rico Tipoff, where the Michigan basketball team faced off against elite competition, these are big-time games.

The ability to passionately cheer on whichever college team you root for is something a lot of us take for granted. Even if it's one-win Western Michigan — if that's your alma mater, you know you'll cheer them all the way until that final snap.

While you eat your turkey and stuffing on Thursday, remember to give thanks for every one of our sports team in Detroit. They might not be perfect — or even good (in the Pistons' case) — but the Lions, Tigers, Pistons and Red Wings are Detroit's teams and just like any child, you'll support them no matter what.