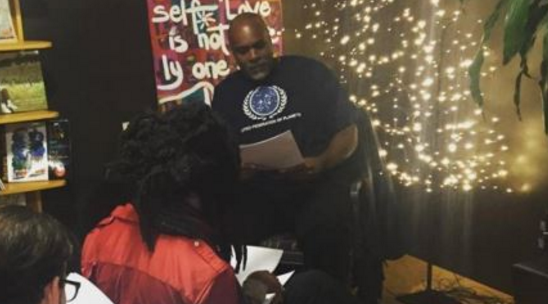 Detroit sci-fi writer Clarence Young, better known to some of his readers as Zig Zag Claybourne, seems like a really nice guy. He's the author of several books, including
The Brothers Jetstream: Leviathan
, a
Buckaroo Banzai
-inspired adventure featuring two brothers gunning for a villain named the False Prophet Buford.
And we're not kidding about that "nice guy" stuff. He turned up in
last year's story by Aaron Robertson about Detroit's Afrofuturist enclaves
. Robertson had called him "affable," and noted that Young refused to accept payment for one of his books, telling Robertson, "That's how you create community."
Despite his affability, Young can also be pretty frank about the challenges of trying to convince literary agents that there's an untapped market for black sci-fi protagonists. In the meanwhile, he self-publishes — and, as anybody familiar with self-publishing knows, the financial returns are often small. He admits that 2015 and 2016 have been financially difficult years for him.
Well, with the arrival of the new year, things have gotten that much tougher for Young. A job he thought was all lined up fell apart, leaving him facing the possibility of being homeless. As if that weren't enough, on Friday, Jan. 13, his house was so thoroughly robbed that practically all he has left is his writing desk.
As they say, it couldn't have happened to a nicer guy.
Now he needs help to get his living situation squared away, and to replace many of the items that have been stolen from him.
"I've always provided help," Young says. "Asking for help isn't my go-to."
Now, however, help is what he needs: "I'll be tapped out very, very soon. I'm not a frivolous person, and I'm generally frugal, but right now I can't do this alone. I know everybody has their own loads. Any help would be deeply appreciated."
Since he posted that message five days ago, only about $2,500 in donations has come in, enough to advance him 1/8 of the way toward his $20,000 goal. But do you think Young is complaining? Hardly. He seems to be sending personal thank-you notes to all his donors, and seems genuinely humbled by what assistance has been provided.
"The donations are wonderful, but the gift is way more than monetary," Young has posted. "The world is full of false narratives selling dread and isolation right next to Wonder bread. You guys erased that and wrote another story."
To donate to Clarence Young's website,
click here
.