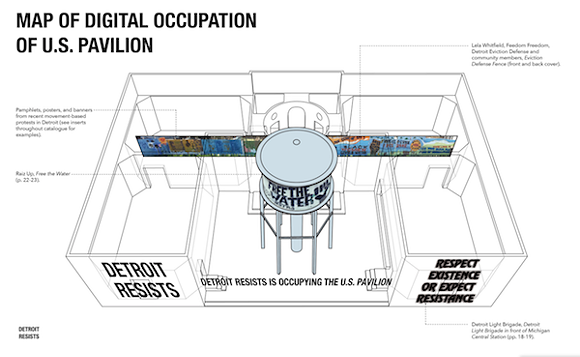 We only just
complained about the disappointing visions presented for Detroit
at the U.S. Pavilion of the Venice Architectural Bienniale. It was like shooting fish in a barrel, of course. When you have ambitious architects trying to impress potential clients worldwide with far-out designs, it's a recipe for completely disregarding the street-level history that makes Detroit great. The organizers of the exhibition have been pretty open about how, while they've asked the designers to attune themselves to specific sites in Detroit, the designs could be applied anywhere.
If you're catching a whiff of PR (or some other two-letter abbreviation) here, you're not alone. We had our doubts that "a dozen groups of architects who airdrop into the city" were likely "to produce work that honors the struggles of the people who've lived in a city with declining services, water shutoffs, mortgage rip-offs, and county confiscations." Instead, we guessed the organizers were mining Detroit for its momentary cool-factor.
Another bunch of people that had discussed developing a response to the exhibit was a group called Detroit Resists.
We had mentioned that group's reservations about the proposed U.S. Pavilion in an earlier blog post
. And we're tickled to share that they've announced an "occupation" of the U.S. Pavilion.
It's as unorthodox an occupation as can be.
It's "digital," in the sense that smartphone users may download an app, and then view the exhibition as Detroit Resists has re-imagined it, full of feisty words and images from such true blue Detroiters as Grace Lee Boggs, Tawana Petty, artist Raiz Up, and organizations such as Detroit Eviction Defense. It's a clever use of digital media to present another side of the Detroit story not endorsed by Detroit's corporate and academic elite.
Have a look by clicking here.