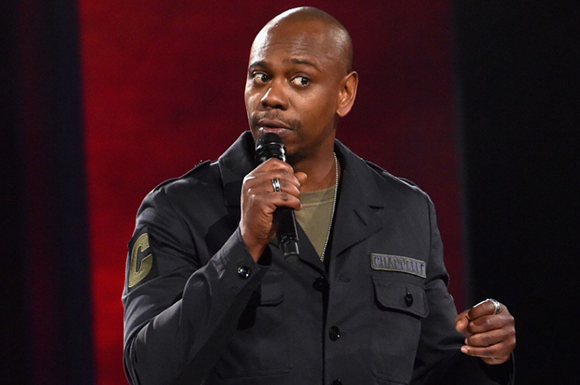 While it was pretty funny to find out that Dave Chappelle bombed in Detroit a few years ago because
he got too stoned
, his jokes about the lives of Detroiters and the Flint Water Crisis are not setting well with some. In particular, Detroit poet Casey Lynne Rocheteau published a
lengthy response
to Chappelle's new Netflix standup special on medium.com asking if Chapelle even cares about black people.
In her post, Rocheteau (who moved to Detroit via Brooklyn after she won the first
Write A House
literary residence program) slams Chappelle for making the people of Detroit the punchline of joke where he clearly doesn't care that he just wasted people's hard earned money.
Rocheteau writes, "It's one thing to bomb, or get sick while touring, but it's a whole other thing to just be a rich guy acting like a reckless teenager who can't handle their shit. There was no introspection to it, just 'fuck you pay me, now let's move on so I can punch downward.'"
Chappelle also gives a "could care less" attitude in the special when he talks about the Flint Water Crisis. Chappelle tells a story of how he was supposed to go to a charity event for Flint, but Chris Rock invited him to the Oscars, an opportunity Chapelle could not pass up. Chappelle says at the tag of the joke, "Come on, man. What am I gonna do about that water? I'm not a superhero. I need to have fun."
Chappelle's attitude seems to be the biggest problem for Rocheteau. "That's really the issue to me: dude is too consumed with himself to even care. By the time he was joking about how he skipped the concert in Flint to go to the Oscars, we already know the punchline."
Rocheteau isn't the only writer calling out Chappelle, too. While
Vulture
praised Chappelle's standup deliveries, they also questioned if Chappelle is just an aging celebrity who will never be caught up with the times. And many in the LGBTQ community are
clapping back
to the comic after his jokes about gay and trans people.
You can follow more of Casey Lynne Rocheteau's work
here
.