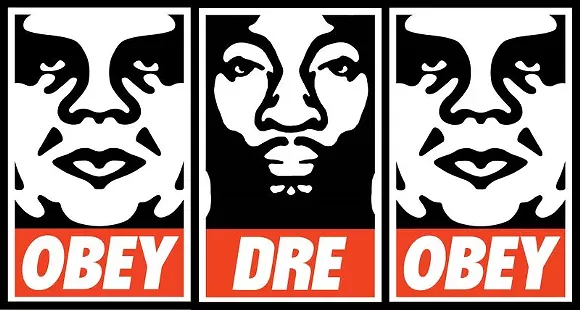 Street artist and designer Shepard Fairey rose to prominence in the '90s with his cryptic "Obey" wheat pastes of wrestler Andre the Giant. That same artwork
landed him in trouble
with Detroit authorities earlier this year, who didn't appreciate Fairey allegedly decorating the city without permission while he stopped by to paint a commissioned mural on Dan Gilbert's One Campus Martius building.
But the team over at Pistons fan site detroitbadboys.com have a plan that could possibly help both Fairey and Detroit settle their differences once and for all.
It involves another Andre: Pistons center Andre Drummond.
The Detroit Bad Boys staff posted
an open letter to Fairey
proposing Fairey give his signature work a Detroit update. Here's how they say it would work:
Pretty cool huh? Andre Drummond, hope for the future of the new Detroit, symbol of the rebirth of both the city and its NBA team, immortalized by one of this generation's great image makers. The people of Detroit are happy, Pistons owner Tom Gores is happy, both of which make Detroit Mayor Mike Duggan happy, and hey Mike is kind of tight with the chief of police, Mike being his boss and all. Oh and added bonus: Tom Gores is buds with Dan Gilbert, who funded your mural and was probably none too pleased with the legal mess that sullied the beauty of the mural. So you got that going for you too, which is nice.

Goodwill abounds, forgiveness reigns supreme. Hope springs eternal. Win. Win. Win.
Via detroitbadboys.com.