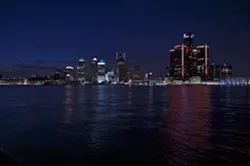 When it comes to the "Most Sinful Cities in America," Detroit is No. 7.
At least that's according to
a new study
released by consumer website WalletHub.
The study looked at 180 cities and used seven overall areas for measurement, which correspond to the Seven Deadly Sins: "Anger and Hatred," "Jealousy," "Excesses and Vices," "Greed," "Lust," "Vanity," and "Laziness."
For example, "Anger and Hatred" looks at violent crime rate statistics (Detroit ranked No. 6 here). "Jealousy" involves theft and fraud (we came in at 13). "Excesses and Vices" involves consumption of alcohol, smoking habits, opioid, and fast food (we ranked No. 5). For "Laziness," we ranked 14.
Detroit lagged in other categories, however. (Yay?) When it comes to "Greed," (casinos per capita) Detroit only ranked 31. For "Lust" (which measured potential cheaters, e.g. adult entertainment and Ashley Madison and Tinder use) we ranked only 95. For "Vanity" (beauty and tanning salons) we came in at 152.
See the top 10 most sinful cities below, or find the full study at
WalletHub
.
1. Las Vegas
2. Orlando, FL
3. Miami, FL
4. St. Louis, MO
5. North Las Vegas, NV
6. Henderson, NV
7. Detroit, MI
8. Baton Rouge, LA
9. Tampa, FL
10. New Orleans, LA