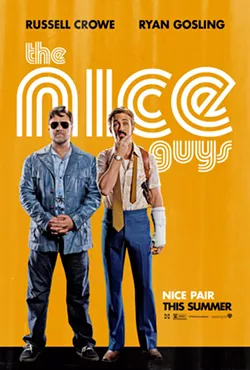 Paying for a movie ticket is a trust fall exercise between your wallet and the cinema. Most action comedies will take your money and run. Sometimes, though, it works out and Ryan Gosling is there to catch you with Russell Crowe spotting him.
The Nice Guys
lands squarely in a genre dying for some respect and, boy, it packs a brass-knuckle punch.
We meet our lovable duo as they are hired to work against each other. Crowe (
Mystery
,
Alaska,
and
Virtuosity
) is Jackson Healy. He is important to others, but finds nothing important. His enforcer business is booming after a high-profile story lead to some national exposure. But, he's a simple man with a simple plan. Someone pays him to bust a pervert's nose, he grabs his brass-knuckles and goes to work. This time, a young woman has paid him to get rid of a stalker. A gorgeous stalker with a bad drinking habit.
Enter Gosling (
Breaker High
) as Holland March. He puts the dick in private dick and the con in conceit. He will attempt to solve any crime as long as the victim's checkbook is open. He's been commissioned to find a woman he knows is dead, but needs to stalk this potential witness first to appear as if he's following leads.
Fist meet face.
However, our heroes lives intersect when Healy learns the girl that hired him is in serious danger. He decides to hire March, who is actually good at what he does. Over the course of the next two hours, the partners get tangled in a massive web of violence, murders, and potential government conspiracies. The story is all held together by newcomer Angourie Rice. As March's smarter-than-the-rest daughter, Holly, she is the glue that keeps Healy's fists and her dad's antics in check.
The beauty of this Shane Black (Lethal Weapon) movie is his appreciation of the viewer. The action comedy genre relies on explosions and cool guys walking away from it. It thrusts the protagonists into suicide missions and rarely are we ever worried about their safety. But look at the best of the bunch. Mel Gibson was beat to crap as a lethal weapon and Jackie Chan fumbled through loss after loss as a drunken master. We crave failure, or at least a sense of it. Gosling is a drunk in despair and Crowe is a man seeking more than his life allows. Their characters are not perfect. If you ran into them in real life, you would regret not avoiding them. Writer/director Black crushed this in
Kiss Kiss Bang Bang
and does so again here.
There are a few annoyances here and there, especially the hints of backstory but holding back so as not to get lost in it. Black must have learned that from those Marvel trolls when he did
Iron Man 3
.
The Nice Guys
is clearly the first of a series. If it does as well, expect more. So, holding back makes sense, but it is frustrating. There is also a bit too much leash given to Gosling in some scenes. He is one of the funnier leading men in Hollywood, but everyone needs to know when enough is enough.
Otherwise, Crowe is excellent (but straight men aren't the hardest roles to pull off). He is the epitome of the enforcer, so it would not surprise if the role was written with him in mind. Gosling is generally hilarious and exercises his comedic muscles in ways heretofore unused. It is worth the price of admission. We give it four stars.
SEMI-SPOILER ALERT: Our lovely city makes an ominous appearance. Kim Basinger, as a government official, has an awesome monologue as the story concludes where she warns the world that Detroit is in charge and nobody can keep us down. Kind of. Watch it! It's cool.
The Nice Guys is playing at Cinema Detroit tonight and Saturday night at 5 p.m., 7:20 p.m., and 9:40 p.m., and Sunday at 5 p.m. and 7:20 p.m. Tickets are $9.
Check cinemadetroit.com for more info.