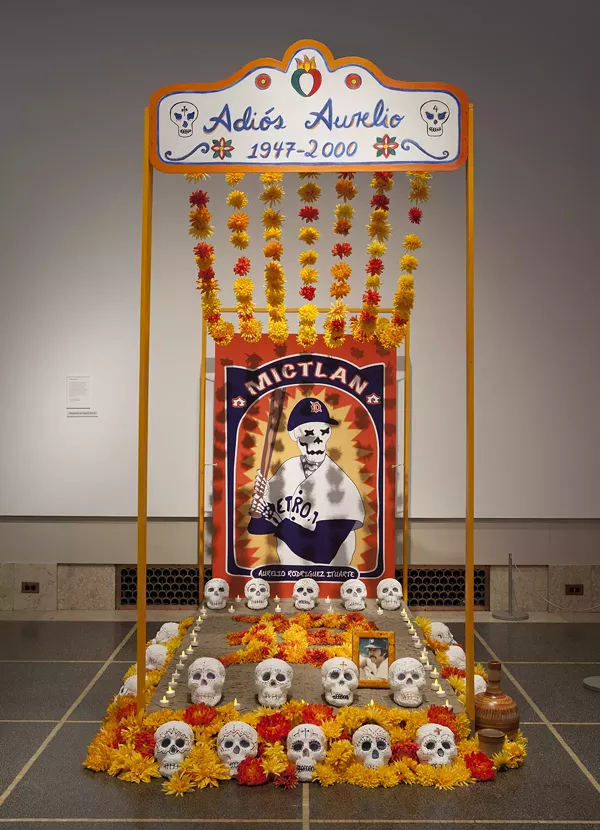 Tamales, sugar skulls, and spirits— these are the ofrendas, or offerings, you can find on handmade alters built this time of year in order to welcome home those who've passed on. Ofrenda altars are apart of the holiday originated in central Mexico and Latin America known as
Día de los Muertos,
or Day of the Dead, celebrated Nov. 1 and 2.
Día de los Muertos recognizes death as a natural part of the human experience and awakens the dead from eternal rest to share celebrations with their loved ones. Assured that mourning and sadness will only insult the dead, Día de los Muertos is a custom that combines indigenous Aztec rituals with Catholicism to celebrate the lives of the deceased.
In honor of Día de los Muertos, the Detroit Institute of Arts (DIA) in collaboration with the Mexican Consulate of Detroit, has invited local artists and community members to create traditional ofrenda alters for display in the museum Oct. 13 to Nov. 12.
Ofrenda alters are made as a passage to welcome home spirits who have passed on. They can also be created as a way to pay homage to not only people, but places, moments in time, ideas, and events that people feel are worth commemorating.
The altars are decorated with objects important to lost loved ones such as
flowers, favorite foods, momentos, sugar skulls, candles, and pictures.
According to the DIA's website, the goal of the display is "to build a sense of community by facilitating the making of personal connections with the reasons and ways people honor the deceased, and to encourage artists and visitors to participate in the act of remembering."
Ofrendas: Celebrating el Día de los Muertos will be on view during regular museum hours and are included with general museum admission. The hours are Tue-Thur: 9 a.m.-4 p.m., Fri: 9 a.m.-10 p.m., Sat-Sun: 10 a.m.-5 p.m., Mon: closed.