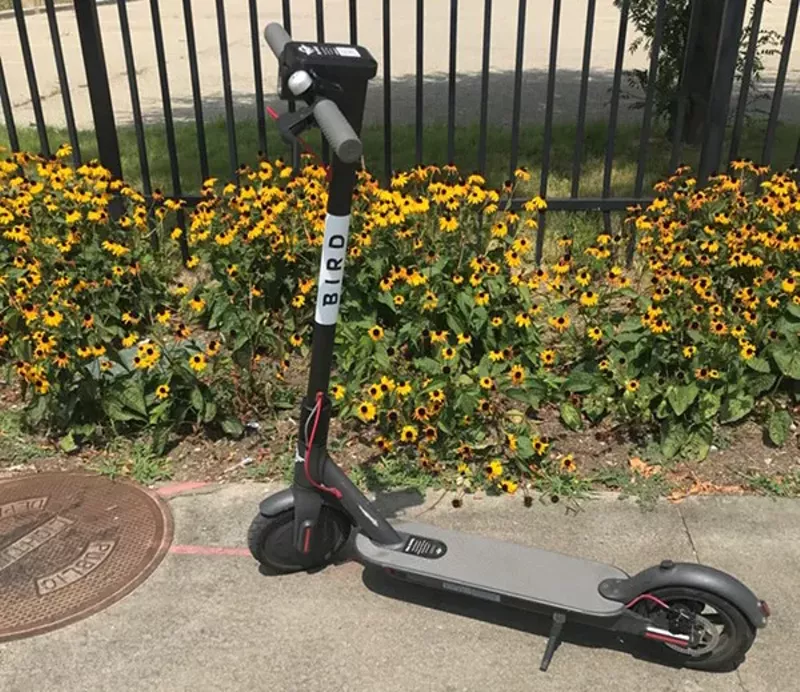 Before today, I was guilty of perhaps not appreciating life as I should, because before today I had never ridden an electric scooter.
Just last week, Los Angeles-based electric scooter rideshare company
Bird
landed its pilot program in Detroit, releasing a flock of matte-black machines into our downtown. Bird, which operates in 22 states in the US and recently launched in Europe, has quickly become
provider
of a fun way to get from point A to point B, as long as the damn thing is charged as each scooter has a 15-mile lifespan. But ever since the company debuted its service in Santa Monica last year, there's been a lot of outrage and confusion, too.
The City of Detroit Department of Public Works noted as much in a recent
Memorandum of Interpretation
regarding the incoming scooters:
Private sector companies are aggressively deploying dockless electric-assisted scooters in cities across the country, often without any input or guidance from cities themselves. Like the earlier arrival of ride-hailing (or transportation networking companies) like Uber and Lyft, these new mobility options are causing significant upheaval as well as shifts in travel behavior nationwide. Public agencies have struggled to get out ahead of venture capital-funded disruptive technologies for which existing regulations are either inapplicable, inadequate, or inappropriate. This has led to a significant amount of tension between cities and companies.
An example of such tension: According to a cute graphic that launches when the app is opened, all you have to do to conclude your journey is engage the kickstand, click the "end ride" button on your phone, and park near bike racks when available. However,
apparently
the parking requirements are far more detailed than the app recommends.
Per the city of Detroit, prohibited parking areas include:


"...any vehicular travel lane including bike lanes, traffic islands, sidewalks less than six feet wide, any block without paved sidewalk, any area within six feet of any crosswalk, bike rack, fire hydrant, manhole cover, drinking fountain, public art, driveway or curb cut, sidewalk cafe, municipal parking pay station, street furniture, or areas occupied by landscaping including lawn, flowers, shrubs, and/or trees."

The list goes on. The tension between cities and companies like Bird and rival company Lime have reached legal levels, as it was announced this week that L.A. lawmakers are looking to temporarily ban electric scooters, citing that unsafe riding practices are endangering both riders and pedestrians. One such naysayer, councilman Paul Koretz, tweeted that the ban would keep folks safe until "firm regulations" are established.

Until then, we're kind of in a Wild West. There's even an Instagram account dedicated to documenting the violent deaths of Bird and Lime scooters. Here's one on fire, and another under water. Some idiots started dumping them in piles because unlike MoGo bikes, which require a docking station, you can leave these things anywhere.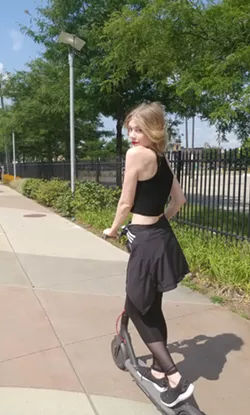 So before Detroit has an opportunity to
throw Bird scooters off of buildings
,
bowl them into oblivion
, or just straight up
throw them in the trash,
we decided to take the skies — er, streets — to test them out.
To ride, all you need is a smartphone, a drivers license, and a thirst for danger. Luckily for me, I had all three.
The first obstacle is tracking one of these bad boys down. During my commute earlier in the week, I had counted 10 scooters in action in the early morning hours. The app conveniently shows you on a map where the nearest Bird is parked (and how much battery it has) so that you can plan your journey. Thankfully, Bird has enlisted a maintenance squad to swoop in at night to fully charge and inspect each scooter, scattering them about town around 7 a.m. and making them ready to roll. We located our first of two scooters at a Rite Aid in Midtown, appropriately parked near a bike rack.
The first thing to note when hopping aboard: Balance
is
required, which is why I'm really glad I took those Groupon yoga classes four years ago. It's relatively easy, but getting your footing just so is key as it's not wide enough to mount your feet parallel, nor long enough to line them up toe to heel. The second thing to note: 15 mph is actually pretty fucking fast. The third thing: The app informs of local law, which requires riders to wear a helmet. Unfortunately for me, I had forgotten to grab my scooter helmet when leaving the house and anyway, I sort of wanted a cop to pull me over... on a scooter.
OK, so I instantly broke the law, but along Woodward
Avenue
there are no bike lanes — only wheel-sized QLine tracks, which I wanted to avoid. Instead, I took to the sidewalk until I reached Cass Avenue, where I treated bike lane posts as an obstacle course, weaving in and out like some sort of madwoman.
Things to account for when you are going 15 mph on a Bird scooter, which disconcertingly begins to sputter and shake when pushed to the limit: ill-timed car doors, sewer grates, real athletes traveling by bicycle, those giant metal plates that cover up potholes in the middle of the road, curbs over 3-inches, and my reason for almost biting it — uneven sidewalks. Even the slightest imperfection can cause you to biff it.
But you don't have to go the maximum speed to have a good time. In fact, the scooters are more responsive when you take it easy and only threaten to tip over when you are at a complete stop, so you can maintain a steady pace while remaining sturdy. The damn things are well-designed.
To add to the list of illegal and dangerous things I attempted while scooting: texting. I tried using my phone first to take a selfie. But because the accelerator requires a pressing motion on the right, and the brake a pulling motion on the left handlebar, there was no conceivable way to operate a phone. I even tried laying against the flat portion between the bars, steadying my phone with a stray thumb, but that proved to be a really bad fucking idea. Don't text and drive.
Eventually, I got the hang of it. I was the devil on two wheels, baby. I had a clear bike lane in my path, the wind in my hair, and a pretty flexible deadline. Non-scooting pedestrians gawked and were not as annoyed as I would be if I was forced to accommodate some douchebag on a scooter barreling at me. In fact, I received mostly smiles, some waves, and even a marriage proposal which I think may have been in response to my advanced trickery (see below).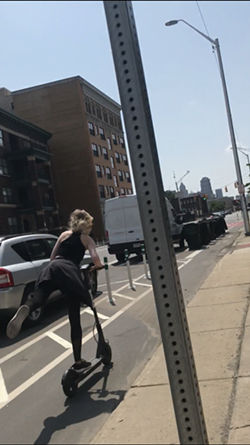 But what they don't tell you about the Bird scooters is that at some point you begin to feel invincible. Fear is no longer breathing down your neck, and like the scooter
itself
you are running off of some mysterious energy source. This is why, at one point during my six-mile ride, I forgot that I was not in a car. I was going as fast as a car, sure. But I was not in a car. So, when I cut across lanes of traffic while navigating a crosswalk and caused a series of cars to squeal to a stop — horns blazing, "fuck yous" a-flying — I realized that after navigating downtown and Midtown with reckless abandon, I had let my scooting skills go to my head.
Before setting my Bird free, I wheeled her (I named her Lily Tomlin) up to the
Metro Times
offices using the elevator, feeling every bit like a criminal. Were they tracking me? Was there a Bird Big Brother watching my every move? Would a member of the company's charging crew break in to rip my beloved scooter from my hands? I wasn't about to find out. But to answer your question, the scooter does accelerate on carpet pretty well, and even our ever-so-busy Editor in Chief could not resist the temptation. Our conclusion? It's fucking fun.
Though the fate of Bird may be uncertain, as evidenced by the many gruesome deaths the electric-nuisances have endured, as of this month Bird is valued at
$2 billion dollars.
At $1 per scoot and 15 cents per minute of
scooting
, my one-hour 6.1-mile ride cost me a whopping $10.60. Though I only encountered one other scooter-rider, nodding at one another like we were in some secret super badass club, the experience brought me closer to the city and closer to injury than if I had obediently stayed at my desk. Not only do I feel one with the road, but now I can tell my future grandkids that I was alive when electric scooters invaded Detroit, and that I once rode one — and survived.
Stay on top of Detroit news and views. Sign up for our weekly issue
newsletter
delivered each Wednesday.