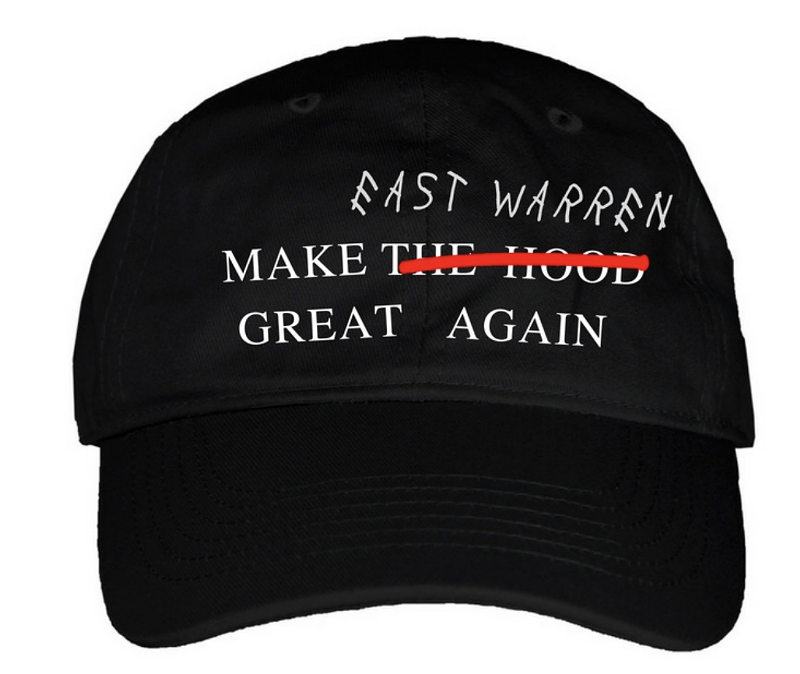 Raphael Wright wants to make the hood great again.

The 29-year-old entrepreneur and Detroit-native started selling hats with his take on President Trump's caustic campaign catchphrase last summer for reasons not entirely dissimilar to the Cheeto chief.

"I started with the same purpose he claims by improving economic, social, political, and educational issues in America's inner cities," Wright says. "Of course, I'm not leading a damaging narrative like Trump. I want people from the inner city (the hood) to unite and lead the efforts in redevelopment and resurrection to make our communities better."

New to the line of MTHGA "dad hats" are altered hood-specific lids, which launched today for $34.99. Among the featured neighborhoods are East Warren, 7 Mile, Mack Ave., Schoolcraft, and Joy Rd with more to come depending on demand. Wright's MTHGA hats are currently available in black, pink, white, blue, and forest green with either the traditional MAGA font or in "remix" which features a slim and slanted lettering.

"It provides a wow moment because people usually have to doubletake," he says of his designs. "Once they see the difference everyone is relieved. Then the conversation about its purpose starts. Most people instantly get it. There's few that don't at first glance."

MTHGA hats are available for pre-order here.

Stay on top of Detroit news and views. Sign up for our weekly issue newsletter delivered each Wednesday.