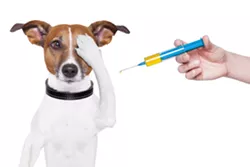 Today Detroit dog owners can bring their pooches to the Pet Supplies Plus on Livernois Avenue in Detroit to get them vaccinated for free.
Detroit Dog Rescue and VIP Pet Care are hosting the clinic, with hopes that city residents who can't afford veterinary care for their canine companions will have access to life-saving vaccines.
The Valentine's Day event is titled Have a Heart, Save a Heart and will offer rabies, DHLLP (which covers distemper, hepatitis, leptospirosis, parainfluenza, and parvovirus), LEPTO (leptospirosis), and Bordetella (kennel cough) shots. Microchips are being offered for $15 and DDR will also additional services like heart worm testing, lyme disease testing, tapeworm deworming, and roundworm deworming for additional but affordable fees. All procedures and tests will be performed onsite.
Detroit residents are welcome to bring up to three dogs per household and the clinic runs from 1 p.m. to 5 p.m.
Pet Supplies Pet is located at 18956 Livernois Ave. in Detroit. For more info on DDR click
here
.