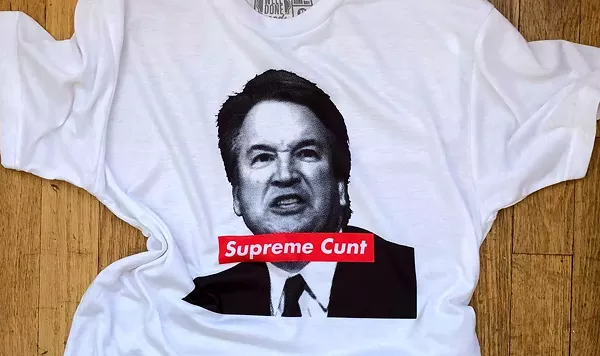 Like many of us, Bethany Shorb, founder of Detroit-based retailer Well Done Goods, was struck with a brilliant idea while perched upon the toilet. And no, that's not a euphemism for the experience of scrolling through Twitter last Thursday while America divided itself over the unstable ramblings of Supreme Court justice hopeful and alleged sexual predator Brett Kavanaugh.

Thus, the "Supreme Cunt" graphic tee was born.

A perfect blend of parody and protest, Shorb played with the premium youth culture brand Supreme and plastered her pun across the face of, well, a major cunt.

"This design was inspired by my own direct dealings as a younger woman with entitled, east coast, frat boy prep school culture — where women are seen as little more than momentary conquests," Shorb tells Metro Times. "While not all may share my views, I find a little crass humor goes a long way toward reclaiming and healing what we've had taken from us by these guys."

The "Supreme Cunt" T-shirts are right at home with Well Done Goods other fashionable and topical accessories, like the "Dan Gilbert Is Watching You" motel-style key fob or "I'm so Detroit I remember when the Train Station had windows the first time," or the "Don't Birmingham My Detroit" tank.

For those worried about the colorful language of the "cunt" tee, Shorb has also mocked up a "clean" version, too, which will read "Not Supreme."

"To be honest, I don't like using the word 'cunt' as a pejorative, but the play on words with "court" was just too much to pass up," Shorb says. "I'm donating half the proceeds to charity — it's wrong to solely capitalize on something negative, and it helps in said healing to parlay that into something good."

Half of the proceeds of the Kavanaugh tee's will be donated to Detroit's Alternatives for Girls. which aims to assist homeless and high-risk girls and women. The shirts come in crew and v-neck and can be purchased here for $29.

Stay on top of Detroit news and views. Sign up for our weekly issue newsletter delivered each Wednesday.