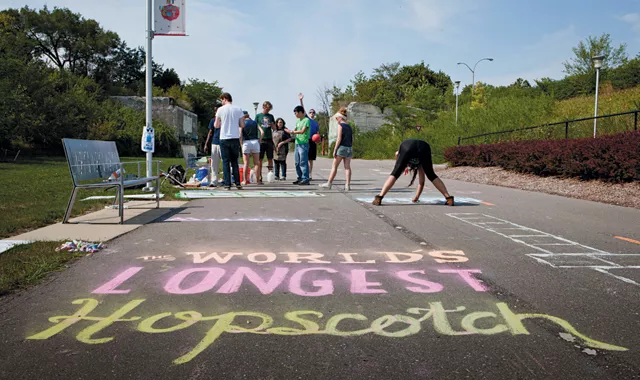 Detroit Design Festival
What: A crowd-sourced design festival celebrating Detroit's creative talent, including the world's longest hopscotch course.
Where: Locations all over Detroit.
When: Sept. 19-23.
As part of the Detroit Design Festival, Wedge Detroit, an area design company, and Imagine Detroit Together are making a bid to set a new world's record with a proposed four-mile hopscotch course. Beginning in Campus Martius, the course is to travel through Cadillac Square, wrap around Woodward Avenue, and end at Gullen Mall within the Wayne State University campus.
Hopscotch Detroit is essentially a temporary piece of collaborative art that hopes to engage Detroit community organizations, businesses, individuals, families and artists.
The idea began as a way to put more feet on the streets in Detroit and, ultimately, encourage Detroiters to meet and collaborate with one another. "There's so much going on in Detroit, but it's not always reflected when you walk down the street," Laura Willming, the so-called "Idea Girl" at Wedge Detroit, explains. "We know there are a ton of amazing people doing great things within all the buildings, as well as communities that are doing good things for their neighbors or for each other. ... The goal of Hopscotch is really to create something that people can use and interact with."
Honorable intentions aside, it's just going to be fun.
Organizers have stockpiled about 650 boxes of chalk, each containing 50 sticks — that's about 32,500 sticks of chalk for you non-math whizzes — to hand out to volunteers and businesses along the course, as well as area artists. The course itself will be mapped out beforehand with chalk paint, a clever concoction of water, cornstarch and flour (dreamed up by Willming and associates) that can withstand three or more rainfalls.
To complete the experience, Play Works, a national nonprofit organization, will host a giant recess as part of the main Hopscotch event on Saturday. Prepare for childhood nostalgia to reach new heights as you enjoy kick ball, foursquare and jump rope.
Of course, if hopscotch isn't your thing, there'll be scores of other "design happenings," as they're called, taking place over the five-day festival as well. Sure to be a standout is Thursday Night's Eastern Market After Dark event. By now, Detroiters are well acquainted with the regularity and gusto with which shoppers descend upon the so-called "food hub" every Saturday morning. Less well known, however, is the activity that takes over the neighborhood after dark, a kind of creative movement hidden in lofts, studios and galleries in the market. The After Dark tour will bring festival guests into studios, galleries, artists' residencies, hacker spaces, shops and letterpress studios and allow them to experience the lesser-known, nocturnal vibe of the market. The action will take place at more than ten locations throughout the market, including OmniCorp Detroit, Salt & Cedar and Detroit Mercantile Company, to name but a few.
Other Detroit Design Festival highlights include the "Stick 'Em Up Post-it Competition," in which designers compete to transform vacant storefronts using only Post-it notes. Also expect a PuppetART Theatre event, and games of Fowling (a mixture of football and bowling in a horseshoes-style layout).
See detroitdesignfestival.com for a complete list of design happenings.