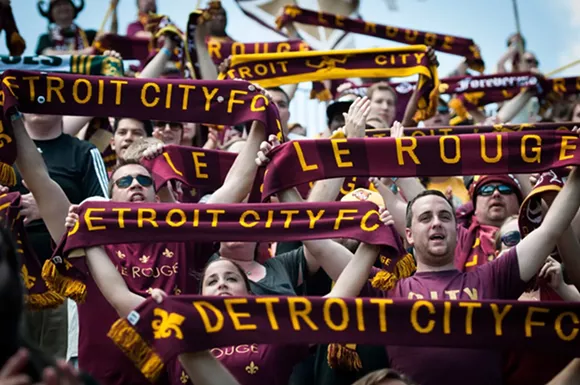 Updated 12:39 p.m., Sept. 24:
The Hamtramck School Board approved DCFC's Keyworth Stadium lease on Wednesday night,
according to the DCFC website
.
Under the agreement, Hamtramck Public Schools has set up a multi-year lease that will allow DCFC to use the stadium for up to 25 events per year. DCFC will raise funds to rehab the facility, which is estimated to cost between $750,000 and $1,000,000. The rehab work could start as early as October, and is expected to be completed in April 2016.
According to DCFC, HPS athletic programs and community groups will continue to have access to the stadium.
"We greatly appreciate Hamtramck Public Schools seeing the potential of this public private partnership and working with us to bring the rehabilitation of Keyworth Stadium one step closer," says DCFC co-owner Sean Mann. "It is exciting for us as an organization to not only find a new home that will allow us to continue to grow, but in the process add years to life of a historic venue that has created priceless memories in this community for generations."
Originally posted 12:39 p.m. Sept. 10, 2015:
On Wednesday, owners of
local soccer success story
Detroit City FC approached the Hamtramck School Board with a plan that would see the team move into and renovate Keyworth Stadium.
In a statement
posted to its website
Thursday morning, DCFC's owners indicated that they hope to make Hamtramck's 79-year-old stadium their new home field as early as 2016. The minor league team, founded four years ago in Detroit, has been playing on Cass Technical High School's field.
"Looking to the next chapter of Detroit City FC, we realize we have reached a point where we need a new facility to continue the growth of the organization," the statement reads. "It is our hope that the next home of Detroit City FC be historic Keyworth Stadium. We are proposing to partner with the City of Hamtramck and Hamtramck Public Schools to lead a monumental investment in our club and the community, and to provide us an opportunity to create the best matchday atmosphere at any soccer venue in America."
Renovations would include structural improvements to the west grandstand, repairs to the wooden bleachers, updates to the locker rooms and public restrooms, repairs to the concrete in the east grandstand, repairs to the field lighting and grooming of the field turf at the stadium, and intentions to install a grass field in the near future.
The move would also give DCFC room to grow. At Cass Tech, the team could draw more than 2,800 fans. Keyworth would hold up to 6,000 spectators with room to expand.
Funding would come from a combination of the club's coffers, business loans, and a community investment campaign that would allow supporters to directly loan money to DCFC and earn interest. The owners also indicated that further down the line, they intend to build their own soccer stadium in Detroit.
If the proposal is accepted, owners hope to complete the rehab by April 2016 in time for the new National Premier Soccer League season.
Before fans cry foul that DCFC is leaving Detroit, the owners made a point to emphasize that this isn't like the Lions moving to Pontiac or the Pistons to Auburn Hills. "Hamtramck has its own identity and a proud history, but it shares the same never-say-die spirit as Detroit. (Not to mention that Hamtramck, due to the fact that it is entirely surrounded by the city, is in Detroit.)," they wrote. "The owners would make this move with the confidence that our supporters from the city of Detroit will be able to access our games just as easily at Keyworth as they were able to at our current venue."
Read our feature story on the unlikely rise of DCFC from earlier this year
here
.