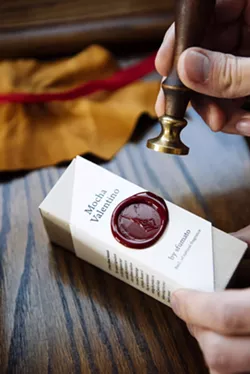 Midtown's retail scene is expecting yet another establishment to open, this one just in time for Black Friday.
Sfumato, a Detroit-based perfume company, will open inside the mansion located at 3980 Second Ave. The store will share the building with Detroit Clothing Circle, which already occupies part of the former home.
The 650-square-foot store will be located at the garden level of the building, and was built out with the help of a $20,000 grant from Motor City Match.
The company itself has been established since 2013, when husband-and-wife team Kevin Peterson and Jane Larson first began designing avant garde fragrances.
According to a press release, the store will sell more than just perfumes made with natural ingredients — their signature. They'll also have a craft cocktail bar called Castalia, which will sell scented mixed drinks. For now, the bar will only serve drinks during ticketed events.