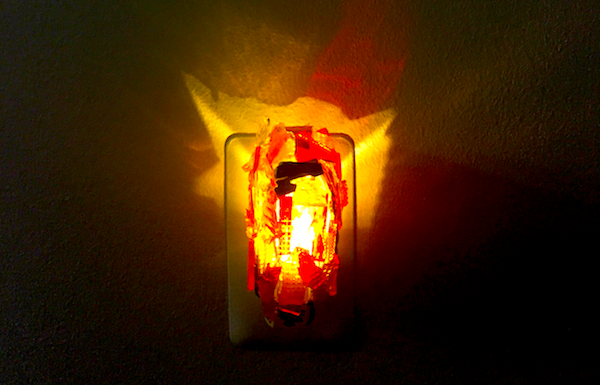 An interesting package arrived at our office the other day. We opened it to find a hand-decorated night light. Upon closer examination, we realized it was a night light decorated with broken bits of tinted amber and red plastic from busted parking and brake lights. It seemed as though somebody had carefully built this avant garde fixture from glass gleaned from a dozen fender-benders. (It's unusual, but not unprecedented, recalling
the "Detroit Diamonds" art project
of almost 10 years ago.)
Turns out they're the handiwork of a local guy named Stephen Trimboli. (
If that name means anything to you
, you may now award yourself 1 million bonus hipster points.) Trimboli, who has lived in Detroit for the last several years, said he often encountered the broken glass while driving around the city or walking his dog, and he'd often stop to collect these colorful shards. He compares it to the way he was drawn to collecting specimens of
sea glass
on visits to Gateway National Recreation Area.
"I didn't have a plan," he says. "It just became thing. I did it for three years, and finally I had a whole box of these pieces. I was looking at the box and I thought, 'What the fuck am I doing?'"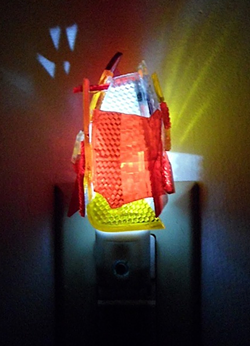 At one point, he tried making a stained-glass-style lamp out of the broken plastic. "It was too big a job," he now realizes, adding, "I wasn't sure what worked best."
But during a visit to a dollar store, he saw a selection of inexpensive night lights and brought them home. He began experimenting with assembling the crooked, jagged shapes into lights that cast warm glows, or colorful washes onto the wall.
"The early ones were very rudimentary," he says. "The more you do, the better you get at it. I started getting adventurous, and now I'm making sconces and actual larger light fixtures. It just sort of like happened organically."
Like them? Curious to learn more? You can see other completed lamps at
Trimboli's website
, as well as a link to
his Etsy site
where you can purchase them for $20 and up.
Get our top picks for the best events in Detroit every Thursday morning. Sign up for our events newsletter.