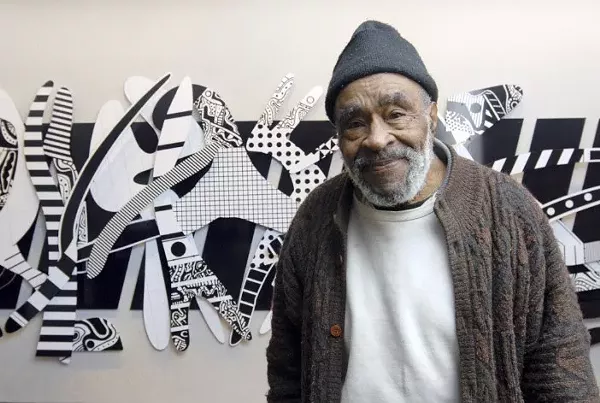 Hunched over a walker, Charles McGee scoots around the ground floor of 1505 Woodward Avenue, overseeing the installation of his new artist exhibition ahead of its June 1 opening reception. It's a large body of work by the 92-year-old artist, including paintings, drawings, and sculptures. But don't call it a retrospective.
That's partially because the exhibition focuses mainly on McGee's work from the 1980s through the present — a mere fraction of his career, which has spanned 70 years. But it's also safe to say that McGee doesn't view time the way the rest of us might. Where other artists might separate their work into different periods, McGee's work defies such simple characterization — almost as if he is constantly remixing himself.
"It ranges from all these 92 years," he says. "I don't decide, 'I'm going to this.' It comes out of the experience." He points down Woodward Avenue, where the old J. L. Hudson Department Store used to stand. "That was where everybody, regardless of where you lived in Detroit, you could go there and get anything you wanted. Twelve floors of it. I bought some of my first art materials there. Different circumstances creates different possibilities."
See for example, his latest work, located just around the corner from the exhibition space: "Unity," a towering 118-foot-by-50-foot mural that was just painted on the side of 28 W. Grand River Ave. in Capitol Park. It's a vibrant work of abstract black and white geometric shapes. Compare that with early work featured in the exhibition, which includes earlier black and white charcoal drawings. While the drawings are figurative, McGee has reduced the figures into their most simplistic — fields of black and white. But you can already see the sense of motion and abstraction that would recur in later works.
"I felt if I could use black and white, which is the greatest combination of opposites, it would speak the strongest language and I could speak it," McGee says of the mural. "I feel if I'm going to put it out there, I want it to be strong."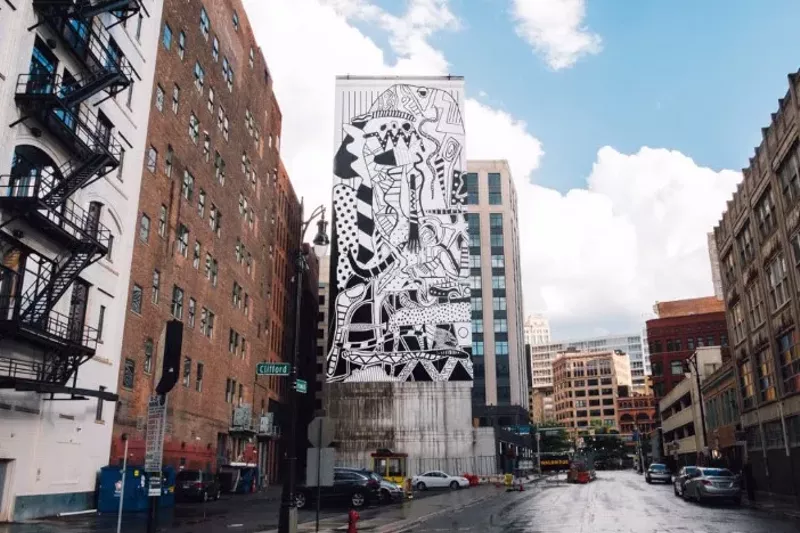 There's other reasons why McGee would feel compelled to simplify, however. In 2011, the artist had a stroke. "The way that I was able to physically comport myself to the world, the way that I was able to see, became different," he says.
But that has not deterred McGee's sense of ambition or drive. These days, the artist works with the help of others — like the Golden Sign Co., the duo of Kelly Golden and Jordan Zielke who executed the "United" mural. Elsewhere in the exhibition, a line drawing McGee did is reimagined as a sculptural work, routed out of plates of metal with the help of machinists.
McGee says he can't help but continue to create art. "I have no choice," he says. "The stroke took a lot of my physicality away from me. But I still think it. I create it, but on a smaller scale. I found that an artist needs to express himself and he will do it regardless. I can't paint physically. But what I do is use somebody else's talent to create some kind of something that they can get it painted for me."
When asked if he started his art career as a painter or sculptor, McGee says, "I started as a farmer." But in his mind, it was very much part of his experience as an artist. "I noticed how the snakes move. And how the days would be longer but very exciting ... You'd stand there and look at a cow, and that was it."
It's a mentality that McGee says he carried with him throughout his entire artistic career. "I don't like to stay stale with what I do because I have so much to learn," he says. "Life is an open book. You keep writing, and you keep singing, you keep dancing, you keep making art … It's all contained inside of some larger structure. And that's what I hope my work does."
The "United" mural was created in partnership with Bedrock Real Estate Services and the Library Street Collective gallery. McGee says the mural is meant to be a reflection of the redevelopment that has been happening in Detroit.
"My idea was to create something that talks about the energy that are in Detroit now as opposed to even five years ago. It's increasing," he says. "I look down here and I almost get lost now — and I've lived in the city since I was aged 10."
Charles McGee: Still Searching
starts at 6 p.m.; 1505 Woodward Ave., Detroit; 313-600-7443; lscgallery.com; entry is free and open to the public. Runs through July 1.