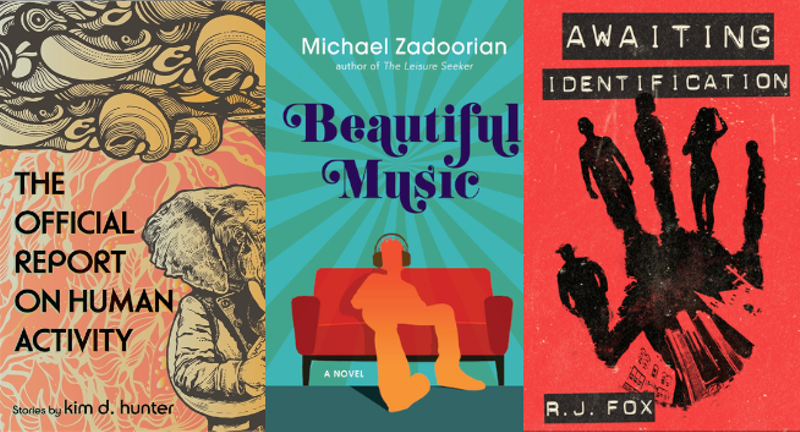 We have received a bunch of Detroit fiction books over the last month that cry out for acknowledgment, if not review. Since all the books' authors will speak over the next few weeks, we figured now's as good a time as any to get these books out there where they can do some damage.
Michael Zadoorian

Beautiful Music
Published May 1, 2018
Growing up in Detroit in the 1970s wasn't easy, with cultural rifts left raw from the 1967 rebellion, oil shocks jolting the middle class, and dealing with sexual norms left upended by the sexual revolution. Add in a family calamity or two and you've got the makings of a bummer bildungsroman … if not for the healing power of music. It's that simple. The story's protagonist, Danny Yzemski, has all the above problems to face and more, but gets through it all with the help of Zep, Ig, and the MC5. He even begins peering over the ramparts of white suburban Detroit.
Michael Zadoorian will appear at 6 p.m. May 22, at Pages Bookshop, 19560 Grand River Ave., Detroit; 313-473-7342; pagesbkshop.com. Michael Zadoorian will also appear at 7 p.m. May 24, on the second floor of Literati Bookstore 124 E. Washington St., Ann Arbor; 734-585-5567; literatibookstore.com.
R. J. Fox
Awaiting Identification
Published April 10, 2018
Here's the idea: It's Devil's Night, 1999, at a wild party at St. Andrew's Hall in Detroit. Five different characters interact with one another over the next several hours, but by midnight on Halloween, they're all unidentified bodies laid out on cold slabs at the medical examiner's office. The book, which was inspired by a
Detroit Free Press
article from 1999, has already won significant praise.
Metro Times
former contributing editor Herb Boyd called the book, "Elmore Leonard meets Donald Goines."
RJ Fox will celebrate the release of the book with an appearance at 6-7:30 p.m., May 12, at Pages Bookshop, 19560 Grand River Ave., Detroit; 313-473-7342; pagesbkshop.com. An afterparty will take place 9 p.m.-2 a.m. May 12, at Northern Lights Lounge, 660 W. Baltimore St., Detroit; 313-873-1739; northernlightslounge.com.
Kim D. Hunter
The Official Report on Human Activity
Published April 2018
Kim Hunter's name should be familiar to longtime
Metro Times
readers, if not for his volumes of poetry or his Kresge fellowship, then for his activism. Until now, one thing Hunter hasn't been known as is a novelist. That changes with the release last month of this book, which tells the story of the media frenzy that follows a male factory worker giving birth to a small black elephant with a mysterious message on its hide. It's set in a dystopian future Detroit of probes, implants, holograms, and hybrid life forms, in which media technology and capitalism have run amok.
Kim Hunter will read at 7 p.m. May 10, at the Scarab Club, Detroit, 217 Farnsworth St., Detroit; 313-831-1250; scarabclub.org.