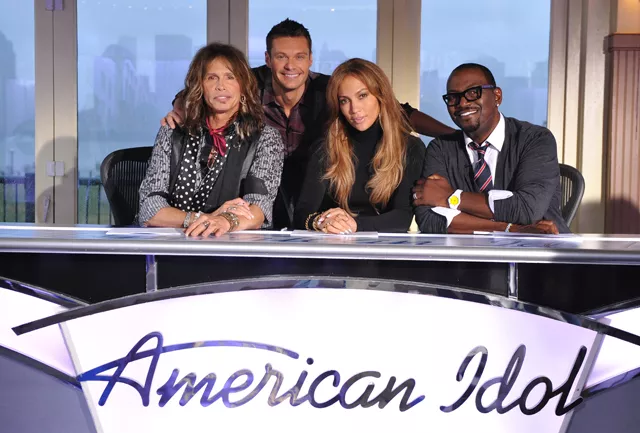 A primetime shift to Wednesday and Thursday nights. Lowering the age limit of competitors to 15. Far fewer opportunities for singers to play instruments. (Hallelujah!) In-house mentoring from recording industry megamogul Jimmy Iovine. A whole new format for determining the semifinalists.
Ellen — gone. That Kara woman with the unspellable last name — gone. A foul-mouthed, well-worn rock legend and fading pop-culture goddess — in as replacements. Oh, and have you heard that Simon Cowell is no longer with the program?
If American Idol weren't already the No. 1 show on TV without a football, you'd swear it was desperately broken and in need of an overhaul. Through an odd convergence of opportunity, timing and questionable decisions, few hit series have ever undergone such sweeping change from one year to the next. And as the curtain rises on its landmark 10th season at 8 tonight (Jan. 19) on FOX (Channel 2 in Detroit), not even the most ardent Idol worshippers have any real idea what they'll be seeing.
Except for the Dawg.
Randy Jackson, who's been there since Simon met Paula, will be an audience touchstone, the last survivor of the show's original, all-important judging panel. "I've been calling it Idol Season 10: The Remix," Jackson laughed over the phone recently, but even the Prince of Pitchiness will be a changed man this winter. The 54-year-old Grammy winner and music business vet, whose yo-yoing battle with weight loss has been a quiet subplot throughout Idol's history as he strives to control diabetes, now looks like the skinny actor Jackson would choose to play himself in the made-for-TV movie.
Metro Times: Randy, the obvious question: With Simon, Ellen and Kara out and Steven Tyler and Jennifer Lopez in as the new judges, what can viewers expect from Idol in season 10?
Randy Jackson: I think Idol's going to do really well this year. I think the addition of Steven and Jennifer has really added a different kind of zest and a freshness to it. You take what was already great and you just kind of add little extra spices to it, give it a whole Emperor's New Clothes kind of vibe. I think people will be pleasantly surprised.
MT: Somebody's got to take the reins of the show, so to speak. As Idol's elder statesman now, will that person be you? Will we see a new Randy Jackson this season?
Jackson: Listen, I think what you see now is you see all sides of me. I think before people only saw one side because there was Paula, there was Simon, we all had our different things that we do. So I think you will see a new version of the Dawg. There's maybe a little bit more hair on the Dawg, if you will.
MT: What does that mean? Will you be more commanding? More caustic? Will you be Simon-izing your comments?
Jackson: No. I think I'll be a little bit more differently assertive. Is that vague enough? It's a little bit of everything. I think definitely you will see me take more of a role in just trying to guide it a little bit because I'm the young veteran on the show, you know what I'm saying? The very, extremely, eternally young veteran on the show! I won't say that I've stepped into the Simon Cowell shoes. I don't think those shoes could be filled, nor would I want to be in them.
MT: Whoa!
Jackson: No, no, but listen, you're going to see a lot of excitement. I think you'll be like, "Wow, Dawg!" I guarantee you're going to say that.
MT: How would you rate Tyler and J-Lo as judges? What do they bring to the table?
Jackson: They bring that artist perspective, because they've been successful artists for many, many years. I mean, Steven Tyler — 45 years and running with one of the greatest rock bands ever (Aerosmith), and we can say that he's a living legend. We've got Jennifer. She's got all three sides of the coin, the acting, the dancing and the singing, a true triple threat. So they're bringing a different kind of awareness to it.
What are you going to say as a contestant to Steven Tyler, who's got a 45-year career at the top of the game as an artist? I think today artists would do good to have a 10-year career, let alone 45. I think they bring a lot to it. It's exciting.
MT: You probably know that the return of Idol on the 19th will air opposite Paula Abdul's new series, Live to Dance, on CBS. Have you spoken to her about that? Any side bets about her chances for success competing against her old show?
Jackson: No, we didn't speak about that. We spoke a couple of weeks ago. She's doing great. I know she's excited about her new show, so I'm excited for her. Look, it's going to be friendly competition and fire. I'm sure both shows will do well.