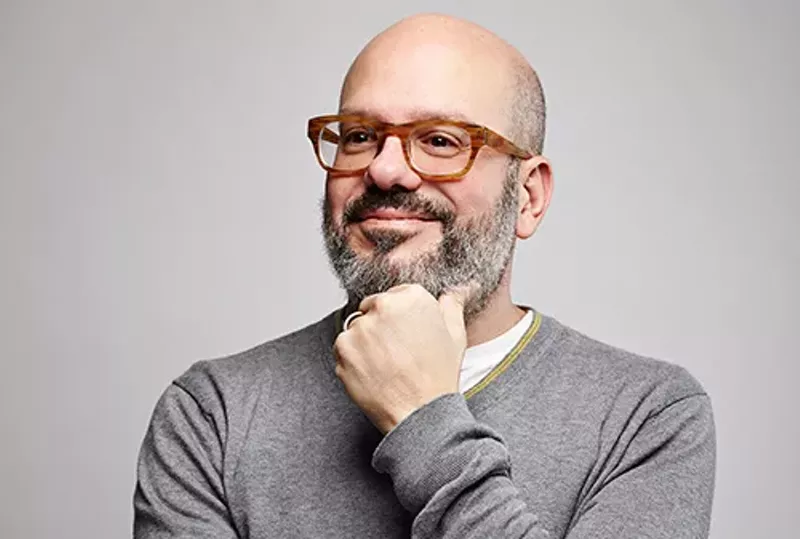 David Cross is cursing his cab driver under his breath. He has been dropped off two blocks from where he needs to be and where he needs to be is pretty important, as his day is meticulously scheduled down to the penciled-in post-gym-class pizza slice between a meeting with an architect and his next interview.
This type of scrupulous planning may seem out of character for the 54-year-old comedian and self-described "New York Hollywood liberal atheist Jew" who forged a career from the absurdist sketch comedy of Mr. Show, an HBO series Cross co-created with Bob Odenkirk in 1995 after their gig on the short-lived Ben Stiller Show ceased.
And calculated may not be a word that comes to mind when discussing Cross' eclectic career, which has found the comedian involved in the Alvin and the Chipmunks franchise, the IFC series The Increasingly Poor Decisions of Todd Margaret (in which Cross is the titular role and head writer), and, most notably, his role on Arrested Development as Tobias Fünke — the clumsy, never-nude "analrapist" (that's a hybrid term for psychoanalyst and therapist, by the way). But for Cross, it is a formulaic balance that has allowed for this strange stream of success, which, according to him, has only proven to be sustainable for the past two years of his nearly 30-year career.
"I'm still surprised, not in a negative way, but happily surprised," Cross says. "I can do this. I don't have to rely on anybody else, I just go up and do it. I'm reasonably good at it and enough people are willing to pay 35 bucks to listen to what I've been working on, so I don't have to worry about a studio trying to raise 5 million dollars to make it."
The mathematics of Cross' approach to comedy don't stop at roles taken or turned down. In fact, much of his calculation is applied to the anatomy of creating a stand-up set. Take his 2016 Netflix special Making America Great Again, for example, where Cross delivered a hilariously tedious diatribe about a luggage store in an airport and, mere minutes later, questioned God's "mysterious ways" that have allowed so many children to be shot to death, a commentary on the growing number of mass school shootings, while inhabiting a southern accent.
"I have a possible answer," Cross says during the bit. "And you're not going to like it. Maybe God is allowing so many of our innocent kids to be shot to death so that they can go to heaven where they then service the ISIS terrorists and suicide bombers as part of the 72 virgins they're rewarded with."
The joke is met with a reluctant orchestra of nervous laughter, jeers, and a recorded walkout which would be the first of many for the special's accompanying tour, and something Cross credits to a perfect storm of political climate and material.
"I've always had, if not walkouts, at least people who express their displeasure," Cross says. "Sometimes that's from the left and sometimes it's from the right, and that will probably always be the case — but never to the almost predictable nightly occurrence that it happened on that last tour."
"Between doing that and sequencing the set, those are two of the trickiest things to do," Cross says of balancing material. "I've always tried to keep it within a calculus of thirds. I like the first third to be pretty innocuous so even if the people who are inevitably going to walk out upset, whether it be the Trump stuff or the religious stuff or the gun stuff, I know that I gave them at least a third if not more of the show that was inoffensive and innocuous and they could enjoy it before getting upset because I called their dear leader a racist."
Cross is peddling MAGA hats embroidered in Russian as part of his latest tour, one that the comedian admits has been reworked to steer away from POTUS-specific jokes because of their expiration date. He goes on to say he has redirected his aim at Trump fans and supporters because "that's where the relevant humor is," as they will exist long after whatever war Trump decides to wage via Twitter resolves itself.
"You can't joke about a thing Trump said or a thing he did or some policy he enacted because it's irrelevant anywhere from 10 days to three weeks later," he says. "It's just been replaced by so many awful things. I had a five-minute bit about when Trump said Africa was full of shithole countries or Haiti was a shithole country. I might as well do a joke about the moon landing. People don't care anymore, nor should they."
If you've seen Cross' name in the news recently, it might have something to do with the fact that people do care about what he has to say — or in the case of PR nightmare for the fifth season of Arrested Development, what he didn't say. During a tense roundtable cast interview with The New York Times, Cross' co-stars Jason Bateman and Tony Hale jumped to the defense of Jeffrey Tambor, whose on-set verbal abuse toward co-actress Jessica Walters came to light just weeks earlier. Cross has since apologized to Walters during an interview with Gothamist, saying, "There's just no excuse for behaving like that." And just last week, Cross' wife and Time's Up activist Amber Tamblyn went on the record to say she educated her husband after comedian Charlyne Yi alleged Cross used a racial epithet against her. Both of these headlines have inarguably overshadowed press for Cross' upcoming "Oh, Come On! Tour."
Cross admits he has done some self-reflection. "I've never really done something or not done something because of how I anticipate the audience might react, which is foolish to do because you're often wrong," Cross says. "I have too much material for this tour, so I have the luxury of dropping stuff, but I'm dropping stuff based on sensitivity to my wife and kid. That's the first time that's ever been part of the process."
When asked about what sort of material has been dropped, Cross runs through a joke about talking to feminists, and corrects himself by saying "some feminists, that's an important distinction to make" — it is clear, here, that Cross is still learning to navigate these new comedic perimeters, and is taking note on how to evolve his own point of view while sticking to his credo of "too soon?"
One thing remains true of Cross, though, and that is if he is not toeing the line between the obscene and the benign, he is indeed crossing it.
"What will always be funny to me?" he muses. "I guess the Challenger disaster."
"And please note that you're still laughing."
David Cross will perform at 8 p.m. on Sunday, July 15 at the Royal Oak Music Theatre; 318 W. Fourth St., Royal Oak; 248-399-2980; royaloakmusictheatre.com; Tickets are $34.
Get our top picks for the best events in Detroit every Thursday morning. Sign up for our events newsletter.