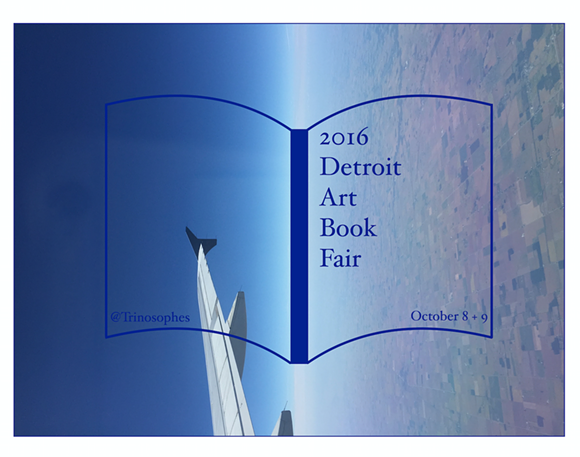 The date, time, and place for this year's Detroit Art Book Fair were announced yesterday
. We reached out to the book fair's founder Maia Asshaq to get more details, with five questions.
1. Hey, what is this thing? Is it just for art books, artists' books, or books that themselves are a work of art, or what?
It's for all of these things - mostly for independent publishers or booksellers that work with art and/or poetry books.
2. This will be the third one, and it's at least the second time it's been at Trinosophes, correct?
This is the fourth one, third at Trino - though all four have been in Eastern market.
3. What are you most excited about for this fair? Who will be participating?

Last year's fair was the best one we've had so far. I'm excited to see who this year's participants will be!
4. Is the $60 just to attend? Or is it also to exhibit there? How do people get a table — can they apply, or do you invite folks yourself?
The book fair is free for the public to attend and $60 is for exhibitors. I'm inviting past participants and then there's usually space for some new vendors as well. Mostly anyone can participate as long as their books fit in someone with the "art book" theme. We try to be clear in letting everyone know that we're open to the sale of other objects, but the bulk of their table should be books/zines.
5. Anything else you want to say at all about this next fair or past ones?
We don't have a ton of information so far, we've just announced the date and we're really excited to be able to have the event at Trinosophes again this year!
To give you a sense of the breadth of this event, here is a list of last year's participants; they had over 30 vendors from all over the continental United States:
Alex Nichols (Brighton)
Andy Gabrysiak
Art Problems (Phoenix)
Cristin Richard (Detroit)
Darryl McCullough (Tecumseh)
DCCP (Detroit)
DittoDitto Books (Detroit)
Erin K. Schmidt (Rochester Hills)
Filter Detroit (Detroit, Hamburg)
Extra Pulp (Detroit)
Harlequin Creature (Ann Arbor, Brooklyn, Berlin)
Honey Tree Publishing (Louisville)
John Maggie (Ann Arbor)
Laura Beyer (Birmingham)
Margie McCall (Detroit)
Martha Moszczynski (Brooklyn)
Matthew Scott Gualco (Brooklyn)
Mehring Books (Oak Park)
Melissa Dettloff (Detroit)
Midwestern Gothic (Ann Arbor)
Noah Levy (Boca Raton)
NSFW Press (Baltimore)
Past Tents Press/Detroit River Press (Detroit)
Paul Shortt (Baltimore)
Rotland Press (Detroit)
Rashid Faisal (Detroit)
Salt & Cedar (Detroit)
Silva Rerum (Detroit)
Small Editions Studio (Brooklyn)
Soberscove Press (Chicago)
Soft Sculpture (Detroit)
Spaces Corners (Pittsburgh)
Stranger Two Stranger (Haslett)
Stupor (Hamtramck)
This Many Zines Cart (Lansing)
Ugly Duckling Presse (Brooklyn)
Vice Versa Press (Austin)
Victory Writers Group (Detroit)
Wayne State University Press (Detroit)