Dale Earnhardt Jr. will be decked out in maize and blue the next time he enters the Michigan International Speedway.
Earnhardt's new No. 88 Chevrolet SS racecar was made in partnership with Axalta and the University of Michigan. The car was unveiled during General Motors Supplier of the Year Award luncheon.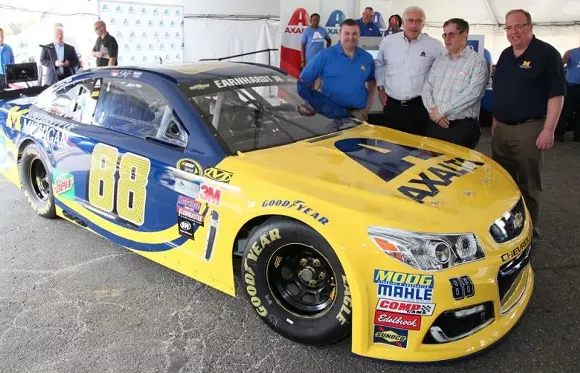 Photo: Axalta.
Representatives from Axalta, General Motors, and the University of Michigan unveiled the new No. 88 Chevrolet SS.
Axalta and Michigan created an educational partnership this year to support engineering and business students. The car, which features Michigan and Axalta logos, is a "celebration of that relationship."
As part of the partnership, Axalta will host 50 business and engineering students during the Pure Michigan 400 to "help them better understand the technology and performance that goes into racing and Axalta's coatings that shine on the car,"
according to a press release
.
The U-M-themed car will make its race debut Aug. 28, for the Pure Michigan 400.