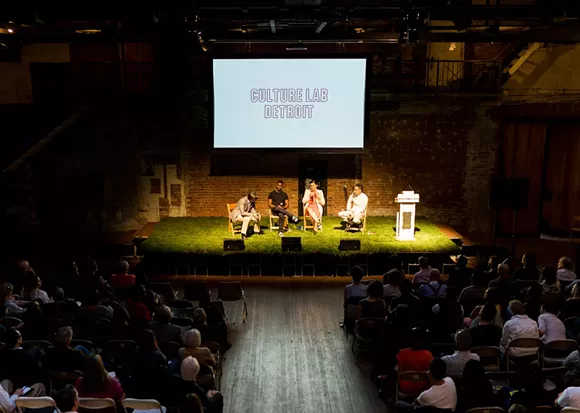 If it wasn't apparent already, we have officially entered a post-truth era. From the "alternative facts" brazenly spun from the White House daily to the public's eroding trust in the media, the concept of a fractured reality had a moment in 2016 — so much so that the Oxford English Dictionary even chose "post-truth" (an adjective "relating to or denoting circumstances in which objective facts are less influential in shaping public opinion than appeals to emotion and personal belief") as its word of the year, noting a 2,000 percent uptick in its usage in 2015.
What does the concept of post-truth mean closer to home? With the increasing traction of the narrative of "Two Detroits" — a booming downtown touted in the media as a Motor City comeback, while the rest of the city experiences a very different reality — it's a question worth asking, which Culture Lab Detroit will explore later this year with the announcement of the "post-truth" theme for its 2017 discussion series, to be held Oct. 5 and 6.
"Every year we pick a theme that we think resonates culturally within the fabric and framework of what's going on in Detroit," says Culture Lab Detroit founder Jane Schulak. "Not only is this theme obviously and clearly politically relevant, but I think that the theme is appropriate in terms of the arts as well. Finding the truth is the responsibility of artists, to help the community find the truth."
Now in its fifth year, Culture Lab Detroit brings in national artists, designers, and thinkers to the city to take part in panel discussions that have, in years past, addressed topics like green spaces, immigration, and more. This year's guests include artist and filmmaker Edgar Arceneaux, architects Christopher Leong and Dominic Leong of design studio Leong Leong, concept artist Martine Syms, writer Hilton Als, visual artist Mel Chin, and artist and writer Coco Fusco.
Schulak says the guests were chosen for the ways in which they have tackled the concept of "post-truth" in their work — such as Arceneaux, who has created installations based on U.S. government Civil Rights-era disinformation campaigns. But they were also chosen for the ways in which they are known to engage and collaborate with different communities — as is the case with Leong Leong, who earned kudos for recent designs for facilities for a mixed-use Asian-American community building in New York and an LGBT center in Los Angeles. "They're very much guests, but we're very careful that the kinds of guests that we bring are highly collaborative and share the same spirit that we do," says Schulak.
Schulak says the idea of collaboration is important for Culture Lab Detroit, which also is the driving force behind deciding where to hold the panel discussions — she says the goal is to hold them in outside-of-the box venues around the city. "Every step of this way is a collaboration — whether it's figuring out where we take the participants on a tour, who helps us create the event, how we get our ideas, and where we present," she says. "We think that's a really important piece, that we are about the people, and the artists, and the grassroots organizations, and the communities, and neighborhoods, and the social practices that are happening in Detroit. We're just a platform that wouldn't exist without all of that." This year, participating venues include the Jam Handy in the North End and Woods Cathedral on the west side.
It's also about access. Schulak says what was initially conceived six years ago as an event inspired by the famous TED Talks speaker series with a focus on design has changed somewhat, but the core of it remains the same — the panel discussions are free and open to the public. "It still is about design, but our topics were not as deep as they are now," she says.
Schulak says the events open dialogues to communities that otherwise wouldn't have access to them, and the open nature of the events create a forum for lively debate.
The first year, Schulak says a power outage caused the lights to go out at the College for Creative Studies' A. Alfred Taubman Center — but that didn't stop the community forum from finishing a heated discussion about the then-new Detroit Future City plan, which provided a 50-year blueprint for Detroit.
"It leveled the playing field. There weren't lights, and people suddenly didn't feel as self-conscious. You could have heard a pin drop," she says. "And the most unsuspecting people stood up and talked about what it was like to be from Detroit, and to see things changing and how they felt in negative and positive ways. There were some hard questions being asked of the panelists, depending on what their positions were." The conversation went on for two hours.
"I knew at the end of it I had struck a chord, but I needed to go deeper," Schulak says. "I really wanted a platform that everybody felt welcome to, and that there was no charge. That is the tangible outcome."
That's what Schulak says she hopes to create with Culture Lab Detroit — moments, rather than a material thing. "We try very hard to create a conversation," she says. "If there's something that can affect somebody's social practice or their life ... then that's just as effective as this large collaboration that we're working on. It's about reaching the community in a way that I think is hopefully different than anybody else has done so far."
Learn more about Culture Lab Detroit at facebook.com/culturelabdetroit.