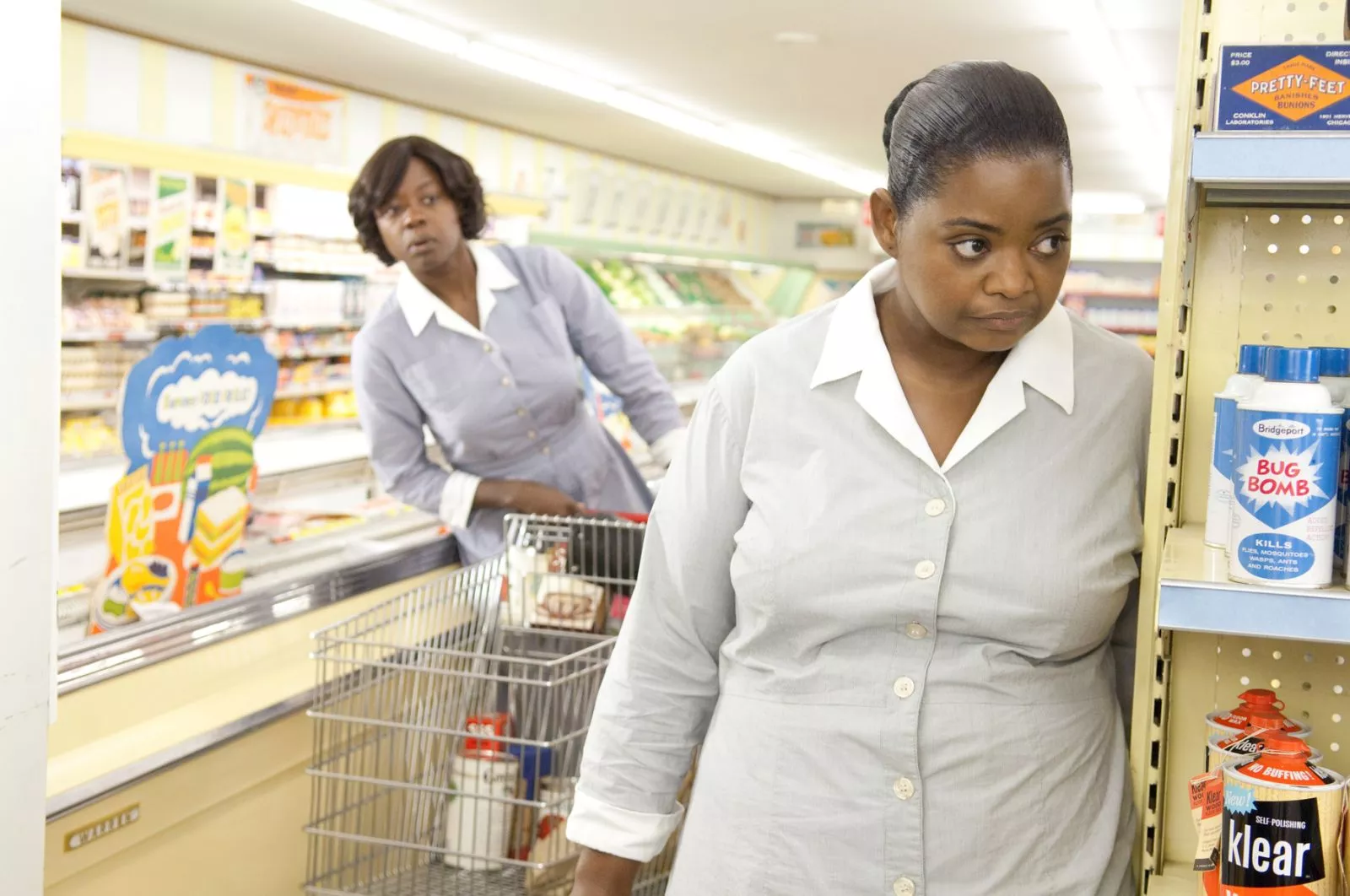 Set in the early '60s, when sleepy Mississippi was just waking up to the nation's festering civil rights struggle, The Help carefully measures out the comfortable distance from which to judge the past and to make us feel better about ourselves. It hardly seems far enough; the naked bigotry shown here is so pronounced it's almost like science fiction, but while wading hip-deep into the murky waters of race, gender and class politics the film stays funny, warm and engaging, where it easily could've become a mess. This is a minor miracle, as the movie is awash in soapy sidelines; there's enough senility, cancer and miscarriages to fill a season of General Hospital.
Credit to the cast, led by the stellar Viola Davis as Aibileen Clark, a veteran maid and nanny who has spent her life quietly cleaning up white people's messes and raising their children. She's proud but voiceless about her life's plight until Eugenia "Skeeter" Phelan (Emma Stone) rolls back into town. Fresh out of Ole Miss, Skeeter is a new fangled, proto-feminist career gal, not husband-crazy like her old pals in the Jackson Junior League.
Skeeter lands a gig at the local paper penning a housekeeping column, a topic she knows little about. Turning to Aibileen for some tips, Skeeter realizes that this woman has so much more to offer, and begins compiling her stories, as well as those of Aibileen's sassier best friend Minny (Octavia Spencer) and eventually, all the maids in town. This isn't the kind of project that's encouraged in segregated Jackson, especially after the assassination of activist Medgar Evers heats the latent racial tension from simmer to boil, and things only get more complicated when the book of real life stories is published, and becomes a hit.
Against this charged canvas, the script — smartly adapted from Kathryn Stockett's book club fave — weaves themes of sisterhood, oppression and liberation into traditionally sappy chick-flick tropes. Some plot lines are dead ends, such as Skeeter's fairly pointless romance with an oilman that tells us nothing about this strong-minded gal that we didn't know. Occasionally, the paternalistic tone of the times overwhelms the material and we get treated to sticky dialogue: "Love and hate are two horns on the same goat."
Confronted with such Southern-fried homilies, my soul normally attempts to crawl out of my body and seek safer ground, but there's something noble and honest at heart that makes The Help eminently watchable, a four-hankie weeper.
Though newbie director Tate Taylor works wonders with his actresses, the men are afterthoughts — though it surely helps to have superb, classy ladies, including Sissy Spacek, Cicely Tyson and Alison Janney, on hand. Stone and Davis are both marvelous, handling comedy and drama with ease. Bryce Dallas Howard seems to relish villain roles lately; as the loathsome, perfectly coiffed devil Hilly Hudson, she shoves her nose so far up in the air she can sniff the troposphere. She's such a shallow, despicable bigot that you'll long to see someone take a rolling pin to her head and neck. She gets her comeuppance, in a pretty foul way, but she doesn't learn her lesson. Can Jim Crow's moral enormity be condensed into a snooty little prom queen? Not really, but there's a lingering reality just darkening the corners of this florid melodrama. The bitter sweetness of seeing people in intimate conditions being so far apart reminds us of the sadness that, for all the progress we've made, there's work yet to do, and that it didn't come soon enough for so many.