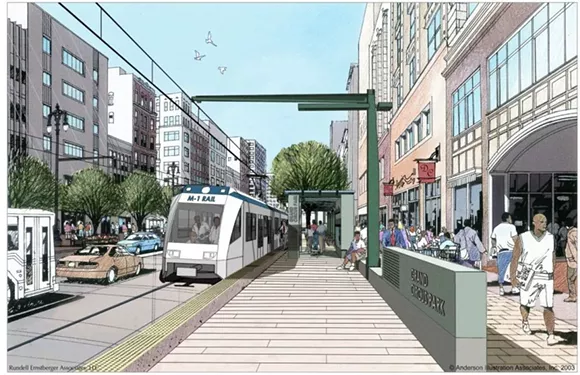 News has been making the rounds for a while that the U.S. Pavilion at the 2016 Venice Bienniale will devote attention to designs for urban areas predicated on the situation in inner-city Detroit. It should
stimulate commentary, given the city's high international profile.
And you can see why some folks would be hot for a project like this. It's exactly the sort of endeavor that brings buzz to an exhibition. The central idea isn't that much different from one of those televised reality shows: Bring together a dozen contenders constituting today's A-list talent, confront them with the most daunting urban design challenge imaginable, and see what solutions they come up with. So much the better if it all trades on the cachet (good and bad) of Detroit to help bring people in to see it.
Luckily, the good people of Detroit can smell horseshit miles away, or in this case, 4,500 miles away. Earlier this week, a group called Detroit Resists released a statement in advance of the effort, part warning and part protest, declaring that a dozen groups of architects who airdrop into the city are unlikely to produce work that honors the struggles of the people who've lived in a city with declining services, water shutoffs, mortgage rip-offs, and county confiscations.
While the resistors say they're curious to see what will come of it, they're concerned that the architectural professionals will end up being in a position to "collaborate in the ongoing destruction of the city."
With a few small exceptions, these guys are almost certainly correct. It doesn't take a whole lot of imagination to conjure architectural renderings showing magnificent buildings sited where real Detroiters used to live, the infrastructure now repaired so that pourover-toting, fixie-riding, WiFi-seeking blurs can populate the street where poor children used to play. If it sounds like it's in bad taste, thousands of miles from Detroit, rendered in gorgeously retouched imagery, it will probably garner oohs and aahs from the international art set.
But will it be that bad? Won't these designers have engaged the community and understand its predicament? We're given to understand that the various teams have already traveled to Detroit, where they've done site visits and community meetings.
But what sort of community have they encountered? The project's Detroit Advisory Board isn't exactly stocked with feisty, opinionated community leaders or anti-shutoff activists. In fact, it's almost a who's who of the very power-brokers who've managed to profit pretty well from the status quo over the years, while most of the city has continued to fall apart, and whose plans likely include further retrenchment in "the neighborhoods."
So it sounds as though the Detroit Resists people are on target. And that's a good thing. Because when the worldwide art community, which knows a thing or two about distressed urban areas and how they can be hotbeds for art that expresses how people really feel, is confronted with slick architectural renderings reimagining a Detroit without poor people, they won't have to search hard to find a statement disclaiming the mentality behind it.