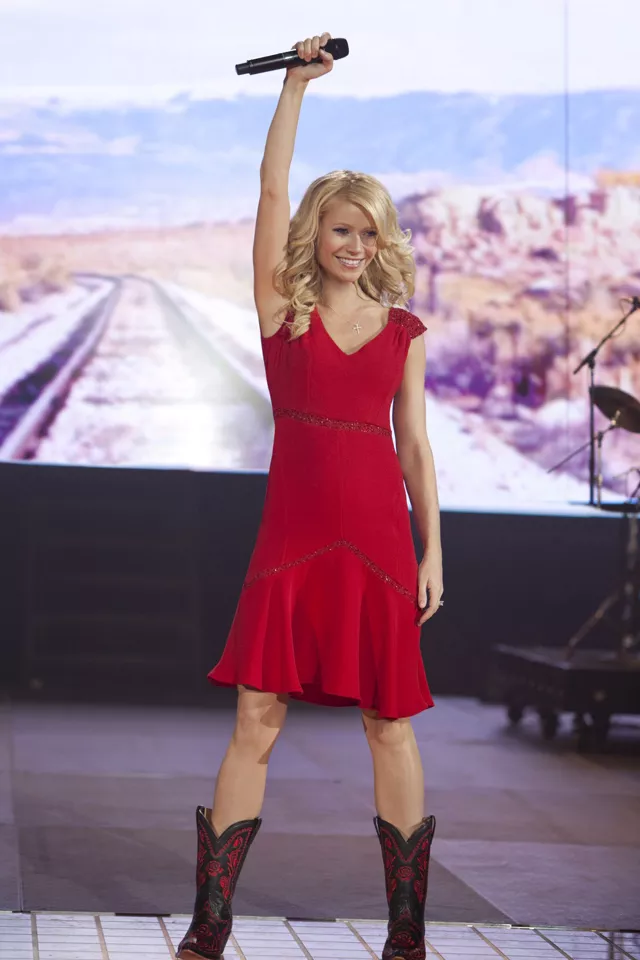 The ultra-chic Oscar-winning actress and rock star's wife has displayed a proclivity for roles that let her show off her singing chops (see her on Glee?), and here she's a glitz-soaked, hairsprayed country diva, modern like, say, oh, Carrie Underwood. Paltrow's idea of playing regular folk is to essay a freefalling, boozed-out superstar with a cushy tour bus and a huge entourage, though she occasionally sports some rad, slightly faded denim.
Country Strong is hesitant to get all the way down, but it does show way more cynicism and emotional range than you'd expect from something that, on first glance, appeared to be nothing more than a star vanity project. In truth, the movie is a creaky but entertainingly old-fashioned backstage melodrama, complete with all the meltdowns, scraps, scandals and stock characters.
The screenwriters even conveniently labeled the characters for us; the hunky romantic foil is "Beau," the doe-eyed ingénue is "Chiles Stanton," and Paltrow's wobbly, yet oddly spiritual crooner is "Kelly Canter," pronounced "cantor."
Paltrow puts on a fine, if weepy, histrionic show as this broken belle — weird, though, when you consider she's essentially playing Kris Kristofferson in the A Star is Born remake. Rehab stints bookend comeback attempts, prompted by her icily efficient husband-manager, in a much better role for Tim McGraw than in The Blind Side.
Her onstage opening acts fight for attention and open spots in the on-the-road bedroom roulette, which is played by all parties. When "artiste" Beau calls moves made by younger starlet Stanton BS, she fiercely responds, "bull true!"
Groan.
The actors all grit teeth, chew mouthfuls of mushy cornpone and attempt to make something of this, despite a cheese-ball script and pretty perfunctory direction, both by Shana Feste.
Paltrow's name is above the title, but most of the hard work is done by Garrett Hedlund, who's fairly convincing as Beau, a talented but conflicted songwriter whose closetful of broken-in western shirts matches his gravelly voice. When a newspaper article dubs him the "new Townes Van Zandt," he puffs up his chest. His conviction and integrity are plot points, even though he's willing to diddle anything in a skirt or step right on anybody's cowboy boots unfortunate enough to get I his way. Gossip Girl star Leighton Meester is likable as the dim-bulb starlet who quizzes herself with flash cards to appear smarter, and is somehow innocent in tiny little panties, while Hedlund and McGraw pass her back and forth like a hacky sack. And as brutally hackneyed a songwriter as he is, McGraw is a decent actor, and he's in fine form as Kelly's emotionally cold and husband-Svengali.
The music is crisply produced and well-performed by the actors, though not as inspired as T. Bone Burnett's in Crazy Heart. It must be authentic though, 'cause, just like most of Nashville's bubblegum-with-a-twang pap these days, it annoyed the holy hell out of me.