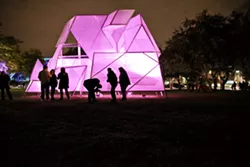 On Thursday, the Trump administration announced it would be pulling out of the United Nations Educational, Scientific and Cultural Organization, or UNESCO,
citing arrears of at least $500 million and what it alleges is an "anti-Israel bias"
in the group.
What does that mean for little old Detroit? Well, UNESCO is the organization that bestowed the Motor City with the title of being a
"City of Design"
in 2015.
Detroit was the first North American city to obtain such a designation, which joined it to UNESCO's Creative Cities Network — a group 22 international cities whose aim is "to promote cooperation with and among cities that have identified creativity as a strategic factor for sustainable urban development."
Unlike the other Cities of Design, though, Detroit's designation was given to the Detroit Creative Corridor nonprofit, as opposed to a local government. The Detroit Creative Corridor, or DC3, has used the designation, in part, to help promote its Detroit Design Festival in September. This year, it loosely joined forces with other festivals like Murals in the Market and Dlectricity in September
to form a new "Month of Art and Design."
It has also sent representatives from Detroit's creative community to other Cities of Design, such as
Saint-Étienne, France.
We emailed DC3 to ask how pulling out of UNESCO could affect Detroit's City of Design status. As of right now, they say they're not sure. A representative from the group says they are in contact with the U.S. Mission to UNESCO as well as the Creative Cities Network to find out more information on what this might mean.
In the meantime, the group issued this statement:
We have received many questions and expressions of concern regarding the recent news that the US plans to withdraw from the UNESCO network at the end of 2018. We at DC3 would like to take this moment to emphasize how proud we are to represent Detroit as the first and only UNESCO City of Design in the United States.

Being a member of the UNESCO Creative Cities Network has given us a global platform to share our creative community with the world. In the past year, over 100 Detroiters have traveled abroad to exchange with partners in the UNESCO network, sharing our city's talent and innovation with the world while gaining knowledge and ideas to bring back home. The designation has also galvanized our efforts to work with our partners and stakeholders to build a vision for how inclusive design can drive equitable and sustainable development here in Detroit.

We are committed to the principles that qualified Detroit as a UNESCO City of Design and continue to uphold the values of the UNESCO Creative Cities Network. We are proud to showcase how creativity remains a driver for sustainable urban development, social inclusion and cultural vibrancy in Detroit and around the world.

We will communicate an update once we have more information.
In 2011, the United States stopped funding UNESCO due to a 15-year-old amendment which mandated a cutoff to any United Nations agency that recognized Palestine. President Barack Obama attempted and failed to overturn the restriction. Since then, the U.S. has stopped payments to the group, amassing approximately $550 million in arrears.
The withdrawal from UNESCO would be implemented by the end of 2018.