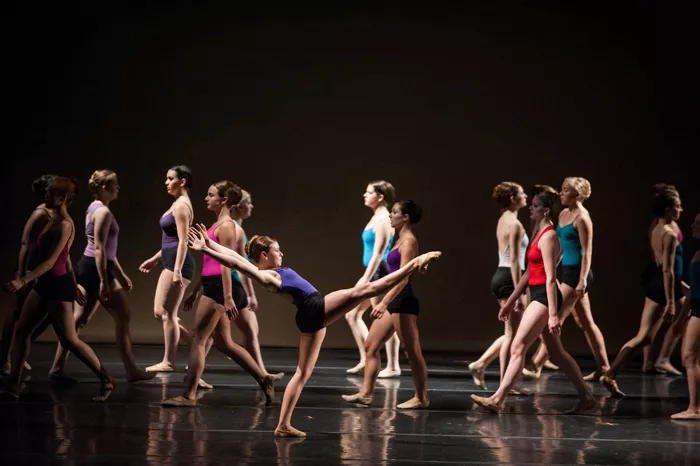 Forget what you think you know about ballet — the petite ballerinas, the tutus, the classical music. For the past 20 years, New York's Complexions has sought to change all that, and the contemporary ballet company is once again bringing its brand of world-class dance to Detroit.
"Complexions is a very American company," says Meg Paul, a ballet lecturer at Wayne State University who is also the program director for Complexions' Detroit Summer Intensive, a two-week program that gives students the opportunity to learn from and perform with the company. "When you see the company move, you know it's Complexions," she says. (Paul danced with company herself at one point.)
Formed in 1994 by co-artistic directors Dwight Rhoden and Desmond Richardson in New York City, Complexions bills itself as America's first truly multicultural ballet company. Paul notes that while Complexions utilizes the classical ballet form, its choreography pulls in a spectrum of other influences as well — from hip-hop to African dance.
"We have Rachmaninoff, we have Stevie Wonder, we have Bach," she says. She also notes that the company prides itself in its diversity. "They have all colors of the spectrum, all shapes and sizes — as long as they're fierce dancers," she says. "It's about being in your best body. It's not about being super-skinny; it's about being healthy. They break through a lot of those old-school types of thinking."
And the company has a long history with Detroit. When Complexions lost funding following the financial turmoil after Sept. 11, Wayne State benefactor Maggie Allesee stepped in to save the day. Paul also points out that Detroit has the distinction of being the first city Complexions brought their intensive to after New York.
This year, Rhoden was brought in as a guest artist at the university, inviting 10 students to perform in New York, in one of his signature works, which went on to travel throughout the country. "They've made a huge commitment to this area," Paul says. "It's not like they just come and they leave. They're very invested."
For those unfamiliar with the term, an "intensive" is a vigorous multi-week program. "I tell the kids an intensive is called an intensive because it's intense," Paul says. "They're working really hard all day long, in a harder way than they typically would. They're working with teachers who they've never worked with before, in styles that they've never done, with people in the room they've never met. By the end, they've got a full plate."
This year, between 120 and 130 students are participating. There are no auditions — all dancers are placed in one of four studios depending on ability. In addition to learning actual Complexions repertoire, the students also take classes on pilates, yoga, hip-hop, pointwork, and even a class on how to audition.
The intensive ends with a showcase that will feature performances from both the students and the Complexions company. "It's an informal showcase," Paul says. "The kids wear leotards and their bike shorts, there's no real costuming going on. We want to make it affordable. The faculty is so generous that they perform as well.
"It's really of the now. It's not about the classic, standing up on one leg. You got to be able to move all that technique off the leg and around the spine," Paul says. "It's really challenging. Whether [the students] aspire to be in Complexions or American Ballet Theatre or the San Francisco Ballet, they're going to be ready."
Complexions Detroit Summer Intensive Student and Faculty Showcase is on Friday, July 11 at 3 p.m. at Music Hall Center for the Performing Arts; 350 Madison, Detroit; check out musichall.org or call 313-887-8500 for more information. Tickets are $20 adults, $10 students 18 and under.