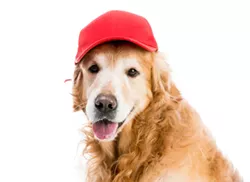 Some furry fans will be watching as the Detroit Tigers face off against the Seattle Mariners at Comerica Park on the night of Tuesday, June 21.
That's the night of the inaugural Bark at the Park when dogs will be welcome to join their human companions for a night of all-American fun.
Fans can buy a special ticket package that includes one adult ticket and one dog ticket. Dog tickets cost $40 and grant access to the 'Bark at the Park' party area, featuring water stations, dog "restrooms" and other amenities, plus a postgame dog walk around the bases, and exclusive Tigers dog bandana.
There will only be a limited number of dog tickets available, and only one dog ticket per adult ticket can be purchased. Dog tickets will be made available for purchase at noon on Thursday, May 25. Bark at the Park dog tickets will only be available online and will not be available for purchase on the day of the event at the gate.
Dog owners are also required to provide paperwork that verifies all vaccinations are up-to-date.
For more info and to purchase tickers
click here.