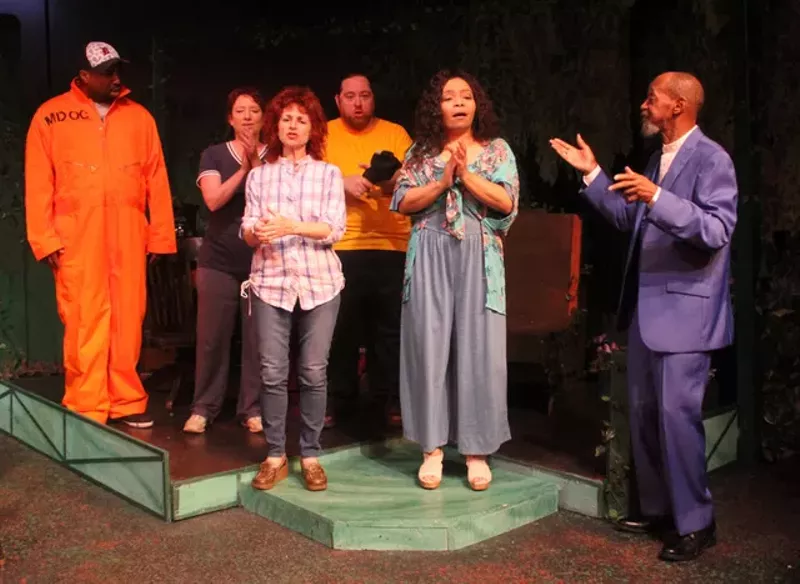 If you've never seen it, the Detroit Repertory Theatre, or "the Rep" as it's often known, will certainly strike you as one of those hidden Detroit gems that present a stark contrast to their depopulated surroundings. And yet the theater along a fading stretch of Woodrow Wilson Street has thrived for more than a half-century, staging several plays a year, including plenty of national premieres of topically important work. The theater was a pioneer of race-blind casting, and productions often trade in important social issues — but often the dramatic fare is all about making you laugh — even as you marvel at the quality sets, pitch-perfect lighting design, and a tight technical ensemble.
The play that opened last week and runs through June at the Rep, the Michigan premiere of
Ghost Gardens
, is all about bringing the laughter. The play is described as a story about the humor, grit, denial and delusion it takes to survive in an urban village. The playwright, native Detroiter and Chicago resident Steven Simoncic, calls the play a "survival story," and it's set in a hard-done-by hood much like the one the theater calls home.
"Our story takes place in a forgotten, underrepresented neighborhood in Detroit that is desperately seeking a reason to have hope," Simoncic says.
What's more, it's populated with people looking for a decent shot at one last chance. It just so happens that the people are on the zany side.
In this forgotten part of Detroit there is a pimp-turned-preacher looking for redemption, a laid-off factory worker with a deer tick in an unfortunate place, as well as a stripper-turned-nurse looking for justice — and an appearance on a local TV show. And then there's Lorelie, and all she's wanted for a decade is to have a baby — and today she announces she's finally preggers. Is this the glimmer of hope the neighborhood needs?
Performances of
Ghost Gardens
begin promptly at 8:30 p.m. Thursdays and Fridays, 3 and 8:30 p.m. Saturdays and 2 and 7:30 p.m. Sundays, at the Detroit Repertory Theater, 13103 Woodrow Wilson St., Detroit; 313-868-1347; detroitreptheatre.com; click here for tickets.