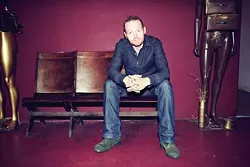 Every Monday morning, legions of devoted, bleary-eyed fans listen to the ranting and ravings of an angry, youngish man with a thick Boston accent — and we don't just mean the homeless guy down by the bus stop. The irritated man in question is comedian Bill Burr, who all by his lonesome, produces the very popular "Monday Morning Podcast," when he's not otherwise busy touring, acting, writing new material or sitting in with XM radio shock jocks Opie and Anthony. Burr's podcast is a concentrated jolt of the kind of abrasive, annoyed everyman observational humor he has been honing on the road for the last two decades, and a jolt of his finely tuned snark in the early morn works almost as well as a stiff cup of coffee. We caught up with Burr recently to discuss the craft of comedy, conspiracies, and the little annoying daily things that inspire his act.
MT: Are you finding it easier to build an audience these days?
Bill Burr: Well, you don't need to please everybody — just enough to fill a theater.
MT: Podcasting is the perfect tool for that, in that you can pull in your own audience in a way that didn't really exist six years ago.
Burr: Yeah, and podcasting is really just like standup; in order for it to work you've got to climb the ladder of it, you know? Whatever you're doing, if you do it well, like people will find you. You don't need a catchphrase or a silly hat or anything.
MT: Well, a silly hat can't hurt.
Burr: Silly hats are tremendous. A silly hat or a catchphrase and I could have cut out maybe 80 percent of the hell gigs I've done in my career.
MT: I was in a comedy club recently and they actually still had the "Gallagher 2" headshot up.
Burr: That whole thing led to a lawsuit, didn't it? That was really interesting; people went out to the club thinking Gallagher wrote a new hour of material, they didn't realize it was his brother.
MT: You do a one-man podcast for the most part. How did that come about?
Burr: That came about just out of sheer laziness. I don't want to book guests: "Come to my place, I can come to where you're at."
I'd have to build a studio, and get assistants and all that shit. I don't want to do any of that. Turn it on, press record and hope it comes out alright.
MT: I heard you bitching about your digital recorder on the show, that it was too much for you.
Burr: Yeah, I can't figure out how to get the fucking pod formatted in the stupid thing. I still can't, it's a problem.
MT: You don't need to be sound proofing a room or anything like that …
Burr: No, I don't have the patience for new technology. I really don't. It takes me forever to learn the last version, and now they come out with something new. I don't find that it makes my life easier. For all the advantages of a podcast, compared to all the time I spend trying to figure out why my printer is on pause, or downloading new software, or my fucking laptop is now considered out of date because it's three years old, and I have to drop a couple grand on a new one. It's a time sponge.
MT: It is. Now you spend half your time constantly updating apps on your phone …
Burr: Then those take up space, your phone gets slow, and you have to throw out your phone, and it ends up in the fucking ocean. It's stupid. I think the sweet spot was right after we cured polio to right before AIDS — actually right before herpes, that was the time.
MT: And landline phones worked just fine. If the phone rang you picked it up.
Burr: You didn't have to screen your calls! You just left the house!
MT: You're friends with Joe Rogan. Do you ever find yourself going down some of those wild conspiracy rabbit holes?
Burr: I really find it odd that somebody can get killed over a pair of sneakers, and everybody can believe that, but somebody gets killed working for a corporation, and that's crazy? "A corporation wouldn't kill somebody." Really? Yeah? Where do they draw the line, breaking into the water supply?
MT: Horsemeat in burgers
Burr: Yeah, right. Throwing salmon in a petri dish or whatever the fuck it is that they're doing, they have absolutely no conscience whatsoever. These are people that try to influence politicians to prolong wars so they can make more money. You think they wouldn't whack one guy?
MT: Sure.
Burr: The funny thing is, conspiracy theory has gotten lumped into, like, moronic thought. It's become synonymous with that, like, if you believe conspiracies then you think the moon is made out of cheese. Look, I don't pretend to know what's going on, but I know it's not what they're telling me, but I will entertain somebody's theory more than I will watching the goddamn news, unless it's just traffic and weather. Look, this country got founded on conspiracies; we conspired to kick the fucking British out of this country; if we didn't have that original conspiracy, this country wouldn't exist.
MT: That's a very solid point.
Burr: It's about being skeptical. Maybe I've just been in this business too long and have seen that things are rarely what you think they are.
MT: You've got a style where you sort of tear into things; does it make it easier to write new stuff about things that annoy you?
Burr: Well, I wish it were that easy. If I just walked around and went "Apples. Alright what about apples make me mad." I'd like to think that my anger is legitimate, though it's definitely misdirected. I don't like that I get pissed off as much as I do, I don't like that I get frustrated, but it works for me in comedy because people can relate to it, you know?
Bill Burr appears at 6 and 9:30 p.m. on Sunday, March 10, at Royal Oak Music Theatre, 318 W. Fourth St., Royal Oak; 248-399-2980.
Corey Hall writes for Metro Times. Send comments to [email protected]