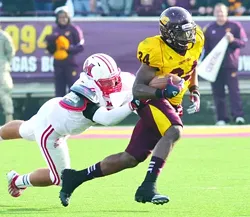 Students everywhere are returning to their respective campuses and some schools have even started. With the first official games beginning Aug. 31, we thought it beneficial to preview some of the local acts in college football. Though there are more than four college football teams in the state, due to the obvious following of U-M, MSU, Western Michigan and Central Michigan, let's preview those. For more, see my Metro Times blog.
Michigan Wolverines
The University of Michigan has one of the nation's most successful college football programs in history — and no, not recently (I know you're all thinking it). But now that the Rich Rodriguez era is well past, coach Brady Hoke appears to have the team in the right direction.
The biggest loss from last year's team will be the ever-popular Denard Robinson, whose flashy, shoelace-less heroics were quite the legend in Ann Arbor. Now it's Devin Gardner's turn to quarterback the team. Besides wide receiver Jeremy Gallon, Gardner won't have a lot of familiar hands catching his passes, but the young receiving corps is poised for a breakout season.
On the defensive side, Michigan lost few key starters, have a solid front seven and an experienced defensive backfield. Overall, the Wolverines are set up to succeed; the only problem is the competition — Michigan State and Nebraska are both divisional rivals, and Ohio State will be a foe they'll have to eventually face to earn a Big Ten championship.
Michigan State Spartans
Like the Wolverines, Michigan State has a lot of returning support from last year's team and is hoping to finish better than 2012's 7-6 overall, and 3-5 Big Ten record. The biggest loss comes in the form of running back, as the Spartans will sorely miss Le'veon Bell. However, freshman Riley Bullough has been making some noise at camp and could nicely fill in for Bell.
The defense's effectiveness was unquestioned last year and appears to be equally, if not more so, proficient this year. Head coach Mark Dantonio has done a terrific job in accruing strong, fast defenders in his time at the helm, and this has culminated in a steel-curtainesque defense. The big question mark for MSU is quarterback Andrew Maxwell, who was, at best, lousy last season and hasn't looked much better this summer. The Spartans should finish better than 7-6, but just like Michigan, a difficult conference schedule could go either way.
Western Michigan Broncos
Western Michigan has a brand new head coach in P.J. Fleck, which makes their season one big question mark. Whether it's a new offensive scheme, how the defense will adjust to different formations, or just team camaraderie, a new coach typically comes with issues. But maybe WMU can use last year's 4-8 record to turn a corner and make it back to a bowl.
Quarterback Tyler Van Tubbergen — yeah, that's actually his name — played due to teammates' injuries a season ago, and now that the starting position is his, he could have a breakout season. The Broncos' defense was subpar in 2012, especially in the secondary, and the many returning players from that faulty unit might not be too beneficial. Either way, Fleck definitely has his work cut out for him in his first year, and it's anybody's guess how the Broncos will play.
Central Michigan Chippewas
Fire Up Chips! Well, it seemed appropriate, especially since it's one of the more cliché mottos in the NCAA. The Chips are coming off a season last year where they pulled out a bowl-eligible 7-6 record and went on to win the hometown Little Caesars Pizza Bowl at Ford Field.
Despite last year's success, CMU is just 13-24 in the past three seasons. Head coach Dan Enos is looking for some of that fourth-year fortune, most notably if he wishes to keep his job.
One sure thing for the Chips is senior running back Zurlon Tipton — again, that's actually his name. The workhorse finished 2012 with 1,492 yards and looks primed for another big year. The Chips defense … well, they run a 4-2-5 spread, so enough said. Though they finished at 7-6 a year ago, their record could easily go either way this season. The MAC isn't slotted to be particularly strong in 2013, which could bode well for both Central Michigan and Western Michigan, as they are conference rivals.
Michael Laurila writes about sports for Metro Times. Send comments to [email protected]