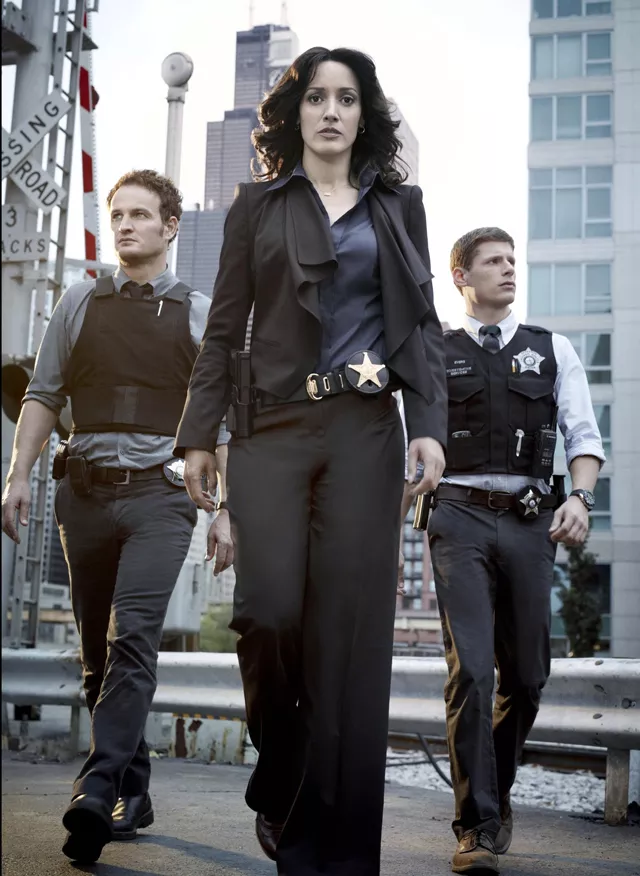 You'll never convince me that the arrival of our Detroit 1-8-7 on ABC last fall didn't play a part in the name change for FOX's new hour-long cop drama, The Chicago Code.
The original title of this first-rate midseason crime chronicle, which premiered at 9 p.m. Monday (Channel 2 in Detroit), was Ride-Along, which sounds about as thrilling as one of those dust-dry police documentaries on TLC. The Chicago Code, for a show shot and set in the Second City, not only seems more evocative but also calls to mind Sean Connery's classic line in the big-screen Untouchables: "They send one of yours to the hospital; you send one of theirs to the morgue! That's the Chicago way!"
So once again the bitter rivalry between two eternal Rust Belt metropolises surfaces in a public comparison. And once again, dagnabbit, Chicago wins.
I love The Chicago Code. 1-8-7, its primetime future currently hanging by a thread, is a fine series and I like it very much, but I love Chicago Code. I watched Monday's pilot episode three times and would view it again without hesitation. In terms of what a pilot is supposed to do that is, introduce all the major characters and make you care something about them while propelling a story forward — The Chicago Code is pretty near perfect.
A homecoming for northern Illinois native and series creator Shawn Ryan, the man who made cop-TV history with The Shield, Chicago Code seems to have everything going for it: powerful characters, strong performances, cheetah-quick pacing and more subplots than All My Children. Recalling the public outcry by some Detroiters as to how our city would be portrayed on 1-8-7 feels silly now by contrast. If you believe Chicago Code's exploitation of its town's stereotype, practically everybody in its police department and city government is corrupt, on the take or trying to get there. Yet Illinois Gov. Pat Quinn made a personal visit to the Chicago Code set early in its production to offer support. That's one major difference between the two cities: Chicago is confident enough in its self-image not to care how fictional scripts define it.
Remarkably, the two series mirror each other in significant ways. Both shows center on a brooding, lone-wolf detective whose unconventional methods make him the best cop on the street but trigger disdain and mistrust among his fellow officers. But as Chicago Code's Det. Jarek Wysocki, Jason Clarke, an Aussie actor who looks Irish and plays a native of Chicago's Polish neighborhood, is more — oh, what's the word I'm looking for here? — likable than 1-8-7's Det. Louis Fitch (Michael Imperioli), possibly because Wysocki's cockiness comes accompanied by a twinkle in his eye, a gift of gab and willingness to punch out a misbehaving brother in blue when necessary. Both ride with young, untested partners (in Wysocki's case, Matt Lauria as the boyish but perceptive Det. Caleb Evers), and both report to a woman in command. In Chicago's case, however, that woman is doe-eyed, delicate Jennifer Beals as Teresa Colvin, the city's first female police superintendent and Wysocki's ex-partner. Watching Beals work for an hour makes you realize how much you've missed seeing her.
Both shows also feature a central villain, but Chicago's baddie is way cooler. It's imposing Delroy Lindo as crooked Chicago Alderman Ronin Gibbons. (A corrupt politician in Chicago? Who'da thunk it?) Lindo's sonorous baritone and penetrating gaze offers just the right mix of smarminess and thinly-veiled menace.
While watching last week's episode of Detroit 1-8-7, I was struck by a fundamental difference between the two series. 1-8-7 is rich in dialogue, but light on pure excitement. The Detroit detectives show up on the scene of a crime and proceed to talk about it for a while. An upcoming episode of The Chicago Code features a bank robbery, a frantic chase on the el train (can you imagine a police chase on the People Mover?), a foot pursuit, a trail of dead bodies and a maniac spraying a neighborhood with lead from a semiautomatic weapon. That's in the first six minutes. Although one suspects 1-8-7's depiction is probably closer to the reality of police work, this isn't radio; all talk and little action makes for a visually less appealing program. In Chicago Code, when Ryan makes you feel warm and sympathetic about Colvin's young police bodyguard, then kills him off in the pilot episode, you know that all bets are off about this show's direction and storylines.
FOX, which carried Sunday's Super Bowl XLV, was praying for a Chicago Bears victory over the Green Bay Packers in the NFC Championship so they could cross-promote the heck out of The Chicago Code's debut the following night. But network didn't realize what Ryan and almost every true Chicagoan knows: Like Detroiters with the Lions, you never put your complete faith in da Bears.

Networking: TMZ reports that the production crew of CBS's Two and a Half Men is furious with Charlie Sheen over his latest descent into hell and rehab. If he can't work, neither can they, and they're not likely to get paid while the show is shut down for the month or more it may take him to recover. A great face, true acting talent and $2 million an episode, yet history is most likely to remember Charlie Sheen for suitcases of cocaine and three-ring acrobatics with porn stars. How very, very sad.