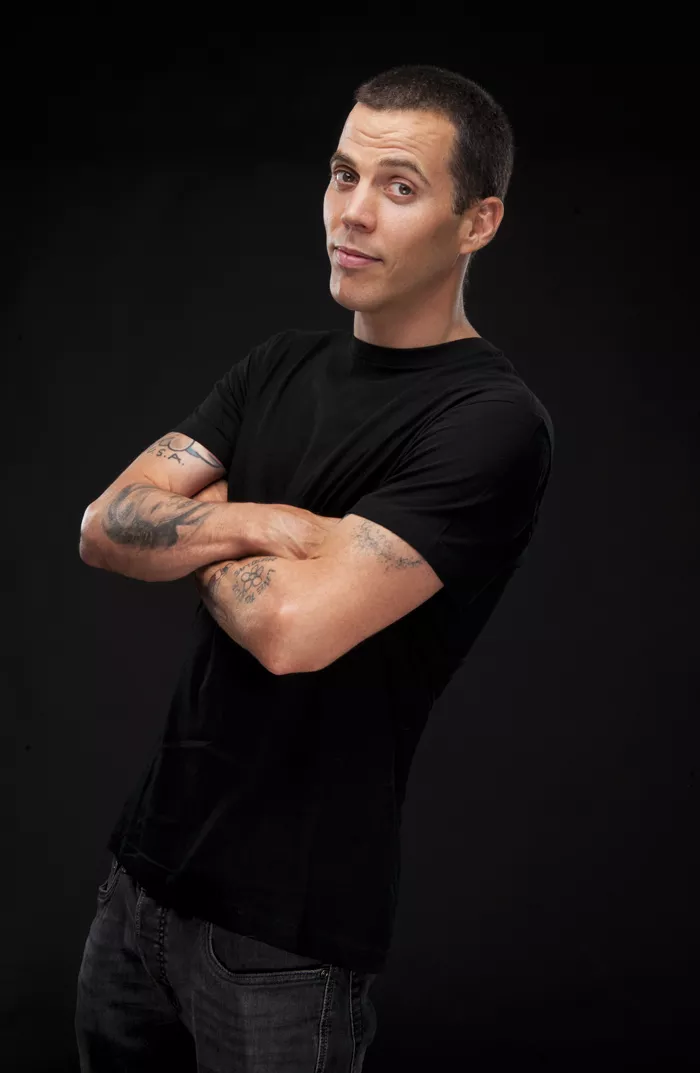 You probably know Steve Glover as Steve-O from Jackass. But although Glover admittedly remains an "attention whore," those days seem eons ago. He's come a long way since the show's immediate and staggering success in the early 2000s. But really, at that point he'd already come a long way. "I grew up in five different countries," Glover recalls. "There was some definite neglect and abandonment issues.
"Before Jackass, I was a pro circus clown," Glover says. "I was having a blast with it. I was doing the same shit all the time. I loved it! Either way, I would've been an attention whore for a living."
Glover's life in the limelight has been anarchic and wacky, as anyone familiar with the prank-pulling, daredevil lifestyle the Jackass guys lived in their heyday knows. The Jackass years were a hayride of intoxication and drug use.
But for almost six years, Glover has been sober, a remarkable feat, given how he still exists in that world of pranks and clowning, while committed to personal growth and lifestyle choices, including a commitment to animal welfare and vegetarianism.
Reflecting on his circus days, Glover has some poignant memories. "The elephant trainer guy had a stick that had tassels hiding a big metal hook," he says. "The elephants have a thick skin, so it doesn't really show it. It wasn't really until I got sober that I became aware [of] it. ... It's a direct reflection of how we feel about ourselves. For me, it really was a big deal. Any sacrifice I made in ceasing to eat meat made it feel really profoundly rewarding. It's just another element of service. The most inherent service work you can do is not contributing to the suffering of others. I'm really candid about sharing my own experiences."
Catching himself, Glover quickly adds, "I'm a total vegan traitor too, because I've added fish into my diet."
Glover is the first to turn himself in or blow the whistle on himself — something that's helped his comedic career greatly. Few share his ability to tell absurd, painful, and cringe-worthy anecdotes without hesitation — and with utter honesty.
Ah, but it's all downhill from here. Shifting gears from the mistreatment of animals in the world, Glover decides that the topic of sex is something we need to address — again with complete honesty. "It's natural in the completely unnatural world of celebrity for a man who is in a position of being recognizable to have pussy thrown at him. Since being in diapers, I was looking for attention and validation. And there's nothing that screams validation more than getting in someone's pants."
Sex isn't just a carnal activity for Glover, though. He's learned that the energy and attention it commands in his life can be controlled. It ebbs and flows like the ocean and — like many things in his life at this point — he's in complete control.
"Once I became mindful of playing well with others," Glover says, "I picked up the camera and learned to edit. I became more attentive to my social media. I've got the blood flowing to my brain now. I have all this time on my hands! I haven't even jacked off in seven months now!"
His comedy work has definitely evolved amid all this newfound constructive energy. "I just bought a house because I'm training to settle down," he says. "This past year has been characterized by hyper-efficiency. My comedy has grown and blossomed, I got my first real acting job — I'm acting in a real movie in a scene with Samuel L. Jackson! What's it like for Steve-O to decide he gives a fuck?!"
Glover has caught many an audience member off guard. For instance, Glover is committed to sticking around after his performance to sign autographs and take pictures with every single one of his fans who wants one. And his confidence, comedic abilities, and gratitude are all supremely obvious.
"If I were doing a bad job," he says, "I would not be headlining comedy clubs three-and-a-half years later. I'm just so grateful to be in this position." mt
Steve-O performs at 7 p.m. and 10 p.m. on May 29-30, at the Magic Bag, 22920 Woodward Ave., Ferndale; 248-544-3030. Tickets are $22. See themagicbag
.com for more info.