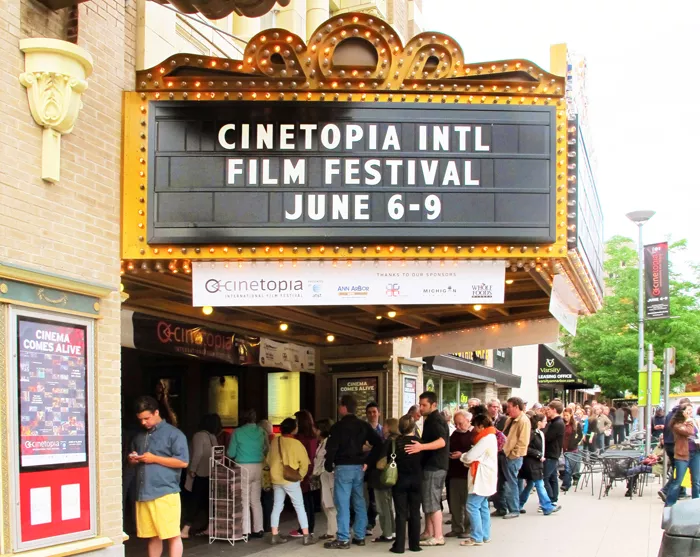 Now in its third year, the Cinetopia International Film Festival (June 4-6) expands throughout southeast Michigan, with five venues in Detroit and four in Ann Arbor. With a Knight Foundation grant "to inspire Detroit through film by creating a signature film festival for the city," Cinetopia offers moviegoers nearly 50 independent films from around the world, as well as appearances by filmmakers, discussion panels, and a symposium on American indie stalwart John Sayles. Film festivals aren't just about premieres or awards — these social gatherings celebrate the infinite variety of a singular medium. Here's a sampling of this year's offerings:
1982
Tommy Oliver shot the autobiographical 1982 in his childhood home in Philadelphia, but has enough emotional distance from this portrait of addiction to depict melodramatic situations with a subtle quietude. Laundromat owner Timothy Brown (Hill Harper) regularly captures wife Shenae (Sharon Leal) and 10-year-old daughter Maya (Troi Zee) on Super 8 film, creating a moving scrapbook of their happiness. Crack shatters this image, turning Tim into an anguished protector. Oliver hits all the familiar notes in unfamiliar ways, focusing on the impact of violence and exploitation. Harper expertly balances Tim's suffused rage with a stalwart devotion to his fragile family.
Borgman
Camiel Borgman (Jan Bijvoet) falls somewhere between Boudu and Rasputin in the canon of family interlopers, an instinctual manipulator who can pinpoint vulnerability with laser precision. He works his way into the home of an affluent Dutch couple by triggering a defensive husband's hostility and the uncertain wife's curiosity. Borgman is punctuated by violence committed by a devoted cadre of con artists (including director Alex van Warmerdam), and there are hints that this Manson figure has supernatural abilities. But van Warmerdam keeps everything as orderly and refined as the sleek, modern architecture Borgman makes his own. It's the sterility of evil.
Buzzard
Grand Rapids-based filmmaker Joel Potrykus finds absurdist humor in uncomfortably long takes, his camera settling on Marty Jackitansky (Joshua Burge) as he perpetuates a scam — and rages when things don't go his way. Burge and Potrykus are the De Niro and Scorsese of stunted adolescence, collaborators who explore the petulance and violence of stymied young men. Buzzard challenges viewers the way Marty Jackitansky challenges his overeager "work friend" Derek (a hilarious Potrykus), with demanding bluntness and little warmth. Each small triumph goads Marty to go further, and every defeat exposes just how little he understands the world outside his own little bubble.
The Case Against 8
A measured look at a hot-button issue, The Case Against 8 charts the steady legal course taken by proponents of gay marriage. Directors Ben Cotner and Ryan White adopt the calm certainty of Ted Olson, the conservative attorney who teamed up with David Boies (his opposing counsel in the contentious Supreme Court case Bush v. Gore) for the five-year battle to overturn California's Proposition 8. With a tight focus on the legal process, this documentary smoothes over the fiery protests from both left and right. From vetting the plaintiffs to decisive courtroom arguments, making history becomes a rational step-by-step process.
Coherence
Coherence puts theoretical physics in an intimate sci-fi context, as a passing comet affects the lives of four couples at a dinner party. Untethered from their smartphones by a blackout, this very social group suddenly feels dangerously isolated, even as the realization sets in that theirs is just one reality among many. James Ward Byrkit employs jittery camerawork and the cut-to-black of episodic television to maintain tension as everyone retreats to their own headspace. Byrkit makes clear that even before this momentous shift in their consciousness, the existential panic felt by these artists settling into adulthood was always just beneath the composed surface.
The Congress
In the strangest case of actors playing a version of themselves since Being John Malkovich, Robin Wright mines her cinematic history for The Congress. Part Hollywood satire, part trippy animation (inspired by Stanislaw Lem's The Futurological Congress), Ari Folman's head-spinning rumination questions the hidden cost of immersive escapism. Wright sells her image to a Hollywood studio that easily manipulates the digitized Robin, but The Congress truly goes down the rabbit hole during an animated conference that celebrates the personalization of perception. Folman's futuristic vision eulogizes precisely the kind of messy and idiosyncratic filmmaking that his overstuffed and intoxicating film exemplifies.
The Dog
With his thick New Yawk accent and humorous braggadocio, John Wojtowicz eagerly recalls what led him to rob a Chase Manhattan Bank in Brooklyn on Aug. 22, 1972. The ensuing hostage situation and media circus was immortalized in the film Dog Day Afternoon. Allison Berg and Frank Keraudren let Wojtowicz call "Action!" and "Cut!" while populating their documentary with interviews that go beyond his surface swagger. From his Vietnam War experience and the years as Littlejohn Basso in the early gay rights movement to prison life and beyond, The Dog profiles a charming and predatory man in love with his strange fame.
God Help the Girl
Belle and Sebastian meet Jacques Demy in Stuart Murdoch's directorial debut God Help the Girl. Murdoch's wry, observational songs fill this Glaswegian musical, with melancholy lurking in the sunny melodies. Hospitalized for anorexia, Eve (Emily Browning) finds solace in songwriting and her alliance with fellow pop enthusiasts James (Olly Alexander) and Cassie (Hannah Murray). Their band remains mostly theoretical, but fully formed, polished songs burst forth from Eve without hesitation (or rehearsal). Whether exploring the Scottish city or the limits of a new friendship, their exuberance buoys this lovingly retro musical that's as pleasant and fleeting as a summer breeze.
R100
Watching R100, you might begin to feel like the beleaguered movie executives who occasionally appear onscreen to comment on the increasingly bizarre action. Hitoshi Matsumoto straddles arthouse and grindhouse with this pitch-black comedy, which follows a Japanese salesman and single father (Nao Omori) who's hired dominatrices to beat and humiliate him in public places. This film about bondage requires some endurance, especially when submission turns to fear and R100 becomes an unhinged revenge thriller. Pain and pleasure are inexorably linked, insists the spokesman for the S&M service, and the audacious and riotous R100 puts that concept to the test.
To Kill a Man
From the opening moments in a tranquil forest, where Jorge (Daniel Candia) works as a caretaker, Alejandro Fernández Almendras infuses To Kill a Man with his quiet reticence. A careful, self-contained man, Jorge is unnerved by a brawny bully, who taunts and robs him as he returns to his modest city home. When Jorge hesitates to act, it sets off a series of violent encounters between the gleeful sadist and Jorge's disappointed family, who find no solace in Chile's bureaucratic legal system. In this beautifully composed tale of vengeance, every action has consequences, but nothing matters as much as the aftermath.