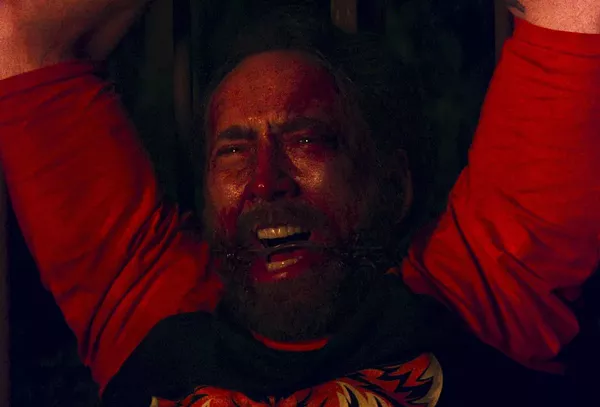 Detroit's independent movie house Cinema Detroit has teamed up with the organizers of the Nicolas Uncaged film festival for a special advance premiere of Nicolas Cage's latest absolutely insane thriller Mandy as well as a pre-recorded Q&A with the actor.

Midtown's Cinema Detroit served as host to the first incarnation of Uncaged fest, an event entering its sixth year that goes all out to pay tribute to the man who ate a live cockroach in Vampire's Kiss, stole the Declaration of Independence and the president, screamed about bees, and became a motorcycle-riding fire skeleton.

The event will also serve as a fundraising party for Cinema Detroit so that it can, as co-founder Paula Guthat says, "continue to make film accessible to the community."

"Nicholas Cage's no-holds-barred devotion to his roles reflects our own devotion to cinema and the devotion of the Nicolas Uncaged group to the actor himself," Guthat adds. In other words, it's a perfect pairing.

Leading up to the screening, guests are invited to meet-up, chow-down, and drink up at the nearby Gus's World Famous Fried Chicken with a portion of the proceeds to benefit the theater.

The Mandy premiere party will take place on Thursday, Sept. 13. The pre-party begins at Gus's at 6 p.m. followed by the screenings at 8 p.m. Tickets for the event are $10 and can be purchased via the Cinema Detroit website.


Get our top picks for the best events in Detroit every Thursday morning. Sign up for our events
newsletter
.