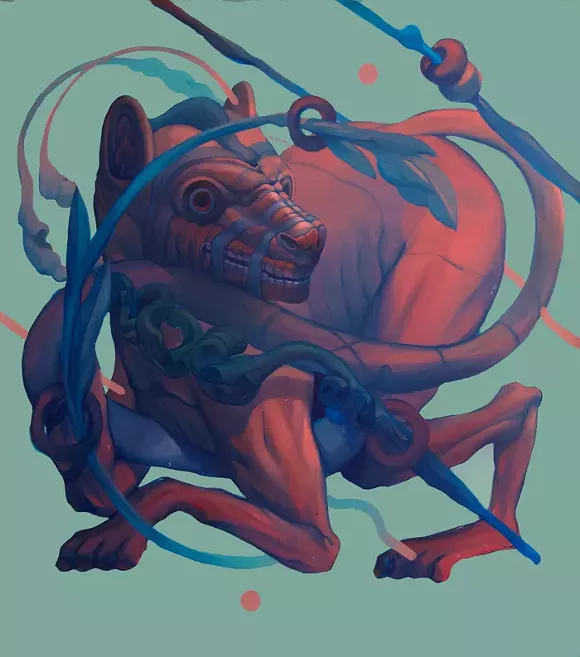 Cinco de Mayo may have passed, but the Inner State Gallery will continue to celebrate the Mexico this weekend with Friday's show opening. The gallery has teamed up with Mexico City-based Fifty24MX to curate this Cinco de Mayo exhibition, which highlights 11 emerging Mexican artists: Curiot, Saner, Smithe, Jesús Benitez, Ciler, Marina Magdaleno, Marka27, Freddy Diaz, Apolo Cacho, Marina Villanueva, Violeta Hernandez, and Alonso "Chivo" Guzman.
In tandem with the exhibit, the two galleries have facilitated a mural campaign in Southwest Detroit, featuring local artist Freddy Diaz along with Saner, Jesús Benitez, and Marka27.
"After visiting Mexico City in 2013 we were inspired by the style and creativity coming out of the city and this younger generation of artists," Inner State co-founder Jesse Cory says in a release. "When we returned to Detroit we wanted to find a way to unite Southwest Detroit's community with these artists and felt these murals and exhibition celebrating Cinco de Mayo were a perfect fit."
The mural campaign kicked off on May 4 — stay tuned, as we'll update you on the mural's locations and progress this weekend.
The show's opening reception runs from 7 p.m. to 10 p.m.on Friday at 1410 Gratiot Ave., Detroit; 313-744-6505;
innerstategallery.com
; free. The show runs until May 30.