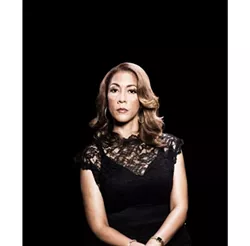 We were surprised when we found out former Kwame Kilpatrick Chief of Staff Christine Beatty was getting
her own radio show
on 910 AM. However, we have also learned that Beatty will also have an upcoming reality television role.
Kilpatrick's other woman will be starring on a nationally syndicated docu-series titled
From the Bottom Up
, which follows "the journey of five women striving to change their lives, rebuild their families and live their dreams after falling from grace," according to
the official website.
The series, which is executive produced by Queen Latifah and Nicci Gilbert, will debut on the Viacom-owned channel, Centric.
Here's what they had to say about Beatty:
From 2002 to 2008, Christine Beatty was the Chief of Staff to Detroit Mayor Kwame Kilpatrick, but an affair with the mayor brought Chrstine's promising political career to a halt. She was forced to resign and was found guilty on two felony charges. Now, Chrstine hopes to move on from her scandalous past and become a prominent political figure.
Interested in checking out what Beatty has been up to in living color? Tune into
From The Bottom Up
on Jan. 16 on Centric.
Watch a trailer below: