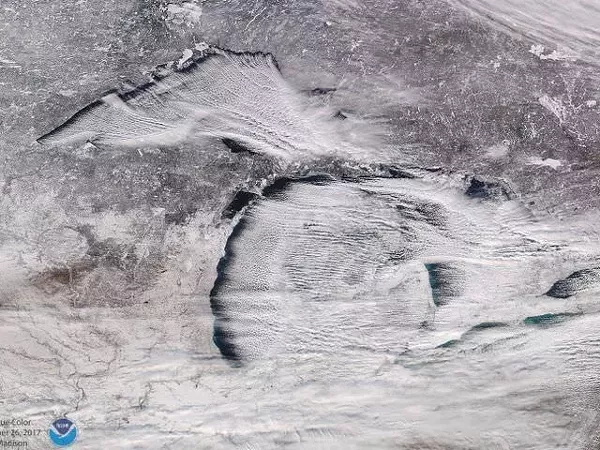 Breaking: It's winter in Michigan and it's absurdly cold. According to
WXYZ
, the forecasted low for tonight is 9 degrees Fahrenheit. Sunday night, it'll be -2. Also, some snow fell a few days ago.
But, why is it so freaking cold and where did this snow come from? Well, according to the National Oceanic and Atmospheric Association, it's party due to these "cloud streets" captured by the Suomi NPP satellite's VIIRS instrument on Dec. 25.
On Christmas Day the entire state was nearly obscured under the parallel rows of clouds, which aided in delivering a whopping 60 inches of snow that fell on Pennsylvania, as well as the few inches accumulated in the Great Lakes State.
Check out these "cloud streets" over the #GreatLakes, seen by the #SuomiNPP satellite's #VIIRS instrument. These parallel rows of clouds are what's behind the heavy lake effect #snow hitting parts of PA, MI and upstate NY. More imagery: https://t.co/mbgRYot60A pic.twitter.com/roKtDAj9Eu

— NOAA Satellites (@NOAASatellites) December 27, 2017