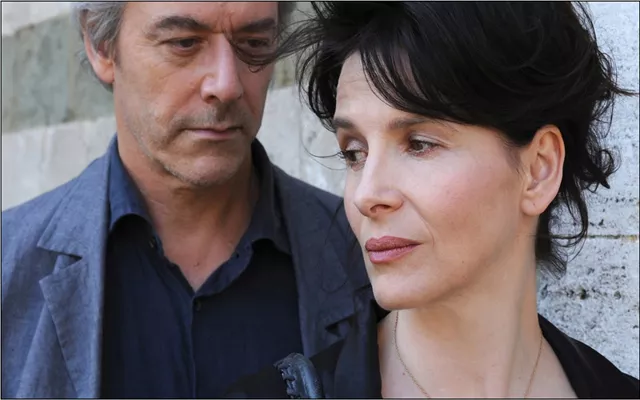 Certified Copy is a long feature-length rumination on the blurry borders of memory and reality, of artistic authenticity vs. skilled emulation, and, form following function, it approximates an all-consuming cinematic experience without bothering to ever really engage the heart along with the mind.
The ever-exquisite Juliette Binoche plays Elle, a French expat in Tuscany, where she runs a dusty little antiques shop. When visiting art historian James Miller (played by opera singer William Shimell) breezes through town on a book tour, she sits up front and slips him her number. Her teen son accuses her of fawning like a giddy schoolgirl, but she hardly minds being chided when dashing James drops by the store to take her for coffee. They begin to ramble through the lush Italian countryside, winding their way through a philosophical and romantic thicket of conversation. When they are mistaken for a married couple at a café, they happily keep up the ruse, and we then see they are clearly more familiar with each other than we've been led to believe, and that familiarity has bred much contempt. From here Certified Copy becomes a continuously unfolding puzzle box, which ceases to be intriguing as soon as you are aware of the design.
The film practically reeks of quality, and that's the inherent problem. This is the sort of art-house fare that creates domestic disunity, as well-heeled wives drag their bored husbands, and then afterward engage in pretentious coffee chitchat attempting to mirror the endless babbling seen on screen. Indeed, with its lovely sun-soaked Italian villages and unresolved mystery, the film is part Eat Pray Love and part Last Year at Marienbad, as unsatisfying as that sounds. Allusions to the masterful works of Eric Rohmer, Alan Resnais, and even Richard Linklater's Before Sunrise, seem clumsily overt, as if movies were the only way director Abbas Kiarostami understood the Western world.
This is the acclaimed filmmaker's first film outside of Iran, and it's receiving nearly as rapturous praise from American critics as his '90s classics, such as A Taste of Cherry and Close-Up, did. Certainly this is a beautifully shot, strongly acted piece, but where his earlier work had a humanity under the formal deconstructions, Certified Copy is cold to the touch, a love too fragile to embrace.
Opens Friday, April 1, at the Maple Art Theatre, 4135 W. Maple Rd., Bloomfield Hills; 248-263-2111.