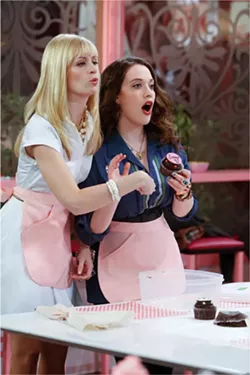 Every year about this time, TV writers cobble together a year-in-review piece and rhapsodize over the previous 12 months as being transitional and monumental in the history of mankind. But this year, 2011, might actually justify that kind of hype.
Five icons of the television industry — Oprah Winfrey, Larry King, Regis Philbin, Mary Hart and Andy Rooney — walked away from their decades-old showcases. Winfrey launched her OWN network. King was replaced by the insufferably snooty Piers Morgan, who accomplished the impossible: He has made Americans long for Larry King. After 33 years as the cantankerous commentator on 60 Minutes, Rooney retired at the age of 92. Less than a month later, he died. Have you ever wondered why that happens?
It was a year of goofy girls and maligned Muslims, fallen Angels and a tarnished Sheen, X-Factors and extreme horror. Here's a recap of 2011's high (and low) points:
• Charlie Sheen takes a flying leap off the deep end and almost takes America's No. 1 sitcom, Two and a Half Men, with him. The show goes into hiatus until junior bad boy Ashton Kutcher steps in as replacement. The show goes on, although not as wildly popular as before.
• More than 16 million people tune in to see Oprah Winfrey leave her day job after a quarter-century as the grande dame of daytime. She reckoned her rabid female fans would follow her to the Oprah Winfrey Network (formerly Discovery Health Network). So far, not so much. Can't say she's desperate, but she gave Rosie O'Donnell a talk show.
• Reunited, and it feels so creepy: American Idol bickering buds Simon Cowell and Paula Abdul return as judges on The X-Factor, the Americanized version of Cowell's monster U.K. hit. The ever-modest Cowell predicts his show will blow Idol away. It doesn't, but it proves viewers haven't yet grown sick of glossy singing competitions.
• Regis Philbin, Oscar the Grouch in human form, departs Live! With Regis and Kelly after almost 30 years to "pursue other opportunities." He's 80 years old! What opportunities can there be? Meanwhile, the syndicated show is inherited by Kelly Ripa, who's auditioning a steady stream of possible co-hosts.
• TV gets scarier than ever. In addition to cable hits The Walking Dead, The Killing, True Blood and American Horror Story, networks jump into fright nights with Once Upon a Time and Grimm. Suddenly, prime time is not for the faint of heart.
• The sexiest and most talked-about new shows of the fall, The Playboy Club, the reboot of Charlie's Angels and Pan Am, all crash and burn. Playboy and Angels don't make it to Halloween, and Pan Am is circling ... the drain. Massive publicity blitzes are impressive, but ratings rule.
• 'Tis the season for single white females, dizzy division. 2 Broke Girls is the year's breakout comedy hit (featuring the hottest new lass in primetime, Kat Dennings), faring even better than co-creator Whitney Cummings' own sitcom, Whitney. Disarmingly ditzy Zooey Deschanel leaves her indie-film domain to become TV's most buzzed-about New Girl, and Melissa McCarthy transcends years of best-friend roles to win the Emmy for Mike & Molly and host Saturday Night Live. Ladies' nights!
• Meanwhile, four classic "guy" series, Entourage, Rescue Me, Smallville and Friday Night Lights, complete successful runs. Kyle Chandler of Lights departs with a well-deserved Best Actor Emmy. Another wonderful series, Men of a Certain Age, is canceled far too soon. The feminization of TV escalates.
• Except, perhaps, for Last Man Standing. Against all odds, homeboy Tim Allen returns to sitcomery with a series that's basically an updating of his landmark '90s series Home Improvement and scores big. It's Tool Time 2!
• Mary Hart's sunny disposition and heavily insured legs walk away from Entertainment Tonight after nearly 30 years of dutifully reporting mindless celebrity headlines. What a trouper.
• More ladies leave: Meredith Vieira forsakes The Today Show after five years, and perennially perky Katie Couric, first female lead anchor in CBS history, vacates the throne that Cronkite built on the CBS Evening News. She's mounting a new talk show for 2012. Apparently the rush is on to fill Oprah's daytime void.
• Kim Kardashian marries pro baller Kris Humphries in a splashy E! special, then divorces him 72 days later. Those Kardashians may have no discernible talent, but they are marketing mensas. Who else would go to such lengths for ratings? (And a multimillion-dollar payday in sponsorships!)
• Celebrity Apprentice emerges as must-see TV. Meat Loaf goes balls-out ballistic, NeNe Leakes punks Janet Jackson and Star Jones, and Gary Busey gets creepier with every episode. Why can't all "reality" TV be that juicy? 
• Feel-good moment of the year: Battle-scarred Iraq veteran and daytime star J.R. Martinez wins Dancing With the Stars.
• Soaps are being squeezed out. ABC cancels All My Children and One Life to Live as networks opt for cheaper-to-produce gab marathons with names like The Chew and The Talk. As a result, one of the great training grounds for young actors is going the way of rabbit ears.
• MTV turns 30, meaning it's officially too old to watch itself. Then it brings back Beavis and Butt-head after a 14-year absence, suggesting it might be growing senile, too.
• TLC Controversy: A 3-year-old competitor on Toddlers & Tiaras is dressed as Julia Roberts in Pretty Woman, while another is fitted with breast and booty implants to impersonate Dolly Parton, sparking a storm of protests calling for the show's cancellation. (It's not going anywhere.) Meanwhile, All-American Muslim, an outwardly innocuous series following five Arab-American couples in Dearborn, experiences massive advertiser pullout after an ultraconservative Christian group threatens to boycott the sponsors. Last week, kayak.com joined home-improvement giant Lowe's in yanking their commercials off the eight-week program. Outraged hip-hop mogul Russell Simmons steps in to buy up all the vacated ad slots.
• One of the 21st century's most honored shows, Mad Men, loses almost a year due to prickly contract negotiations, scheduled to return with new episodes in early 2012. Even the ad guys at Sterling Cooper know that's lousy marketing.
• Taylor Armstrong's ex-husband, Russell, commits suicide during the taping of Real Housewives of Beverly Hills. Sympathetic producers respond by editing him out of most of the season's episodes.
• 30 Rock achieves its 100th episode. Alec Baldwin celebrates by getting thrown off a plane.