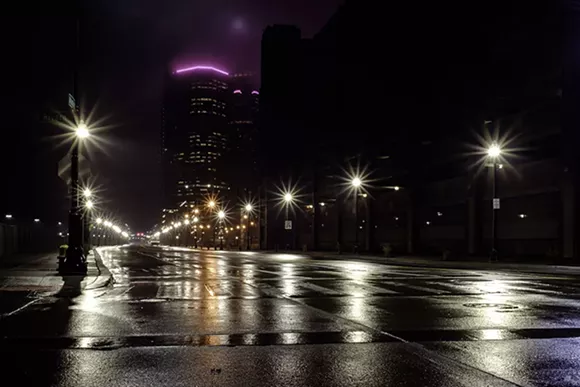 On Thursday, Dec. 15, Detroit's Public Lighting Authority will celebrate a ceremonial "lighting of the last light" at the Detroit riverfront — the end of a $185-million, nearly three-year effort to replace 88,000 of the city's old streetlights with 65,000 new energy-efficient LED lights.
The ceremony will feature photographs from the College for Creative Studies' special projects class, who were approached by the PLA to document the transformation. But the photos are no mere documentation — the moody, evocative photos are beautiful in their own right, with a nocturnal Edward Hopper vibe. (
Click here
to see a slideshow of 11 images from the series.)
"The objective was to photograph how the lights had transformed the landscape of Detroit and therefore affected the lives of the people in the neighborhood," says Carlos Diaz, the special projects class professor. "We talked about the need to make photographs that somehow capture the human condition and also the aesthetics of how visually the lights are transforming the landscape."
The students presented their work to the PLA's board for mid-terms. "The collaboration is an interesting situation for the students because it affords them the opportunity to see what it's like to have to answer to the needs of the client while at the same time making beautiful photographs that transcend just the documentary," says Diaz.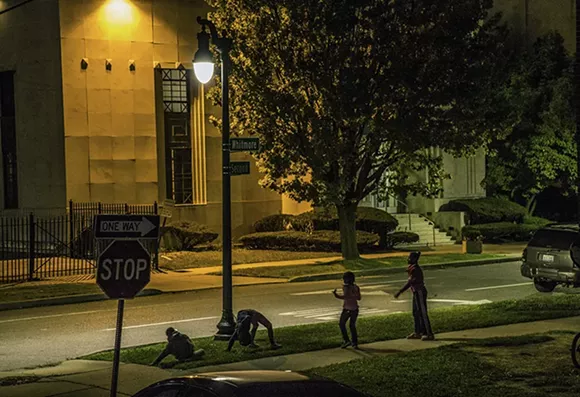 Diaz says that photographing in the city night has its own challenges (the class traveled in groups, and the PLA provided security) — but the results were eye-opening. "It's like an adrenaline rush, being out at night photographing where you can't see beyond a certain [distance] away from you," Diaz says. "Because of the accumulated light in the camera, the world lights up to you and you see things that you really couldn't have seen with the naked eye. That was really sort of a magical transformation that occurred from being there and seeing the image in print."
And when curious passersby asked the students what they were photographing, Diaz says they were thankful when they heard they were with the PLA. "All of a sudden the conversation would change," he says. "They would say how thankful they were, and to please thank the PLA for the lights they've installed in the neighborhood, and the difference its made."
The "lighting of the last light" ceremony will be held at 4 p.m. at the intersection of Atwater Street and Riopelle Street in front of the new Orleans Landing residential development.