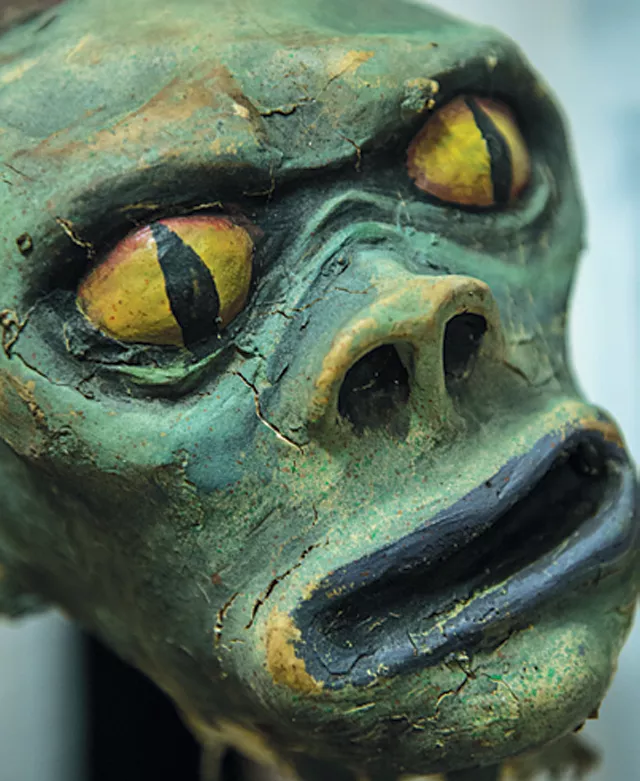 The trick with successful collective-based art? Submerge the ego in service of the work. The trick with bringing multiple, otherwise-disparate collectives together successfully? Synthesize the spirit. The ambitious Vision in a Cornfield exhibit — which opened at MOCAD last Friday — pulls off the tricky move of not just collecting and displaying the work of three distinct, critically important and vital Detroit artist collectives, but synthesizing and invigorating their spirits to birth a unique, lively and moving experience that conjures powerful questions about life, death, rebirth and spirit — about space, chance and creation. 
At the core of Visions' material is the Ogun collective (centered around poet, musician and visual artist Aaron Ibn Pori Pitts) and the Destroy All Monsters collective (as in the proto-punk band of the same name, and including the late Mike Kelley and Jim Shaw as well as Cary Loren and Niagara). The work of these two visionary groups is further enlivened by the electromechanical Detroit collective Apetechnology. 
The backstory on the exhibit goes something like this: Destroy All Monsters' Mike Kelley and Cary Loren were in a cornfield in Fowlerville in Livingston County more than a decade ago, scouting locations for a film about spook houses, and they came upon an abandoned car in the middle of a cornfield. The car — showing no signs of its owner's presence — was still running, had strange noses emanating from the trunk and was decked out in running lights that gave a glow and the impression of a UFO. 
Loren and Kelley filmed the vehicle and made a loose plan to create a work based on the experience, transforming cars into moving sound sculpture.
Coincidentally, members of the Ogun collective had long been conducting an ongoing "unsanctioned art project" on the streets and byways of Detroit, centered around poet, artist, activist and musician Pitts' chance encounters with abandoned automobiles. 
"He was a marathoner," noted co-curator M. Saffell Gardner during the gallery talk held last Saturday. "And during his training runs, he'd come across burned-out cars in Rouge Park or Belle Isle. And he would do a ritual, dedicated to fallen artists, before the cars were pulled out."
These improvised on-site rituals gathered Ibn's Detroit jazz collaborators, such as Faruq Z. Bey, Skeeter Shelton as well as dancers, drummers and others from the Ogun collective. (The name refers to the Yoruba orisha — spirit or deity — or iron, hunting, politics and war.) 
Pulling these threads together today is a collaborative curatorial masterwork that synthesizes the collectives' impulses into something wholly other. Moreover, it does so from every angle. Curatorially, the use of space is immersive. Credit Ogun's M. Saffell Gardner, Lester Lashley, Aaron Ibn Pori Pitts and Dianetta Dye; DAM's Cary Loren (and posthumously, Mike Kelley, who died in January, for inspiration); and Apetechnology's Chip Flynn, Leith Campbell and Brad Ballard for submerging their individual egos in service of a vision. Associated artists who contributed greatly to the success of Visions include Olayami Dabls — whose urban sculpture installation and African Bead Museum on Grand River Avenue is an overpowering experience unto itself — and Levon Milross, whose headdresses synthesize the visions from both primary collectives here. Put simply, this show moves. Moves visitors through space and time. Moves — literally — through integrated technology. And — most importantly — is just plain moving.
At the gallery talk Saturday, Lashley set the tone and described the collective method thus:
"We are urban bush people. We take materials from the urban bush. And Ibn is the master of masters. Ibn can touch anything and make it sing, vocalizing and verbalizing the raising of the spirit." 
Gardner describes the collaborative curatorial experience as a coming together of unfettered ideas.
"When I came in, Cary was bopping around like a pixie with all these ideas. Dabls was installing the mirrors on the cars ..."
As surely as the collective spirit energizes the work on display in Vision in a Cornfield, two figures loom large over the exhibit. The first — and arguably the source from which this exhibit springs — is Pitts. It is his work that is showcased in the first gallery and the dozen-plus collages introduce the aesthetic of the Ogun collective, bright, black, incandescent and incantatory mixed-media collages firmly rooted in the Black Arts movement's aesthetic. In a side room, a loop of film segments documents a selection of the vast and varied Kcalb Gniw/Ogun collective's art happenings — from improvised drum and dance incantations at gallery openings to heady, intense improvised Afrofuturist avant-jazz practice sessions from Ibn and collaborators like Lester Lashley (with whom he worked as a participant in the groundbreaking AACM). 
Though he suffered a debilitating stroke four years ago, it is his tireless work ethic, devotion to following his muse and marathon (literally) discipline that turned burned-out automotive wrecks tucked amid riverbanks and lightly trod paths into opportunities to invoke something more.
In fact, at the opening reception last Friday worlds intermingled ecstatically — black and white, hipsters and hip, old and young — most movingly, literally around Ibn, as the Ogun collective and anyone else who cared to join in formed an improvised dance and drum circle ritual around a wheelchair-bound Pitts, surrounded by the work he helped inspire. Voices and rhythms and movement locked into a groove so powerful that frankly, if you weren't moved, you didn't have a heart.
The exhibit itself continues on from the Ogun room, through a "Resource Room," an immersive collection of works and artifacts that commingle the aesthetics, totems, ephemera and work representing Ogun and DAM.
It acts as a kind of interpretive Rosetta Stone, stuffed with imagined cosmology triptychs, UFOlogy-inspired works, shrines to Afrofuturism, Sun Ra, the AACM black music organization, Coltrane, with circus sideshow banners featuring undead creatures, and video loops including everything from black arts pioneers to Star Wars' Lando Calrissian. 
From this gloriously chaotic room, you pass into the cornfield itself. Cornstalks line the hallways and walls and the throb from the exhibit gets louder, the smell of stalks evoking autumnal sensations.
Here lies the centerpiece of the exhibit, the show's namesake experience. A set of three — for lack of a better term — art cars, parked in MOCAD's main space. But these are no mere frivolous art cars. They are, as Lashley noted, the collective fetish objects of this synthesized tribe of urban bushmen. 
One features the guts of a piano under its hood and tom-tom drums mounted out the back window for kicker speakers. Lights flash, drumbeats throb. A protective ring has been crafted around each vehicle. Around one, a ring of sand has been sculpted with egg cartons and bottle caps to resemble a kind of alligator skin. 
Another features Dabls' mirror collage aesthetic, glinting light from jagged shapes, ever-changing with Apetechnology's sound installation and animatronic motion. It is ringed, protected by ground-up tire rubber.
Hanging near the cars are Levon Millross's fantastical headdresses. Truly, these pieces represent a visual synthesis of the collectives' cultures. They are the finery that would be worn by the drivers of these wayward chariots of the gods. Meticulously crafted from both "found" and created materials, the three floating wearable sculpture works take shape from discarded circuit boards, iridescent spray foam eruptions and papier-mâché collages, hanging at eye height, beckoning the viewer to imagine donning the garb.
Meticulous, artfully sprawling, infinitely changing with light and sound, Vision in a Cornfield is that rarest of exhibits that truly harnesses the best from its participants and demands engagement from even casual visitors. Proof positive that what they've captured here is more than the sum of its parts.
Or, as Lashley put it straight: "You must respond. Understand?"
Chris Handyside is a former Metro Times editor and longtime contributor. Send comments to [email protected]