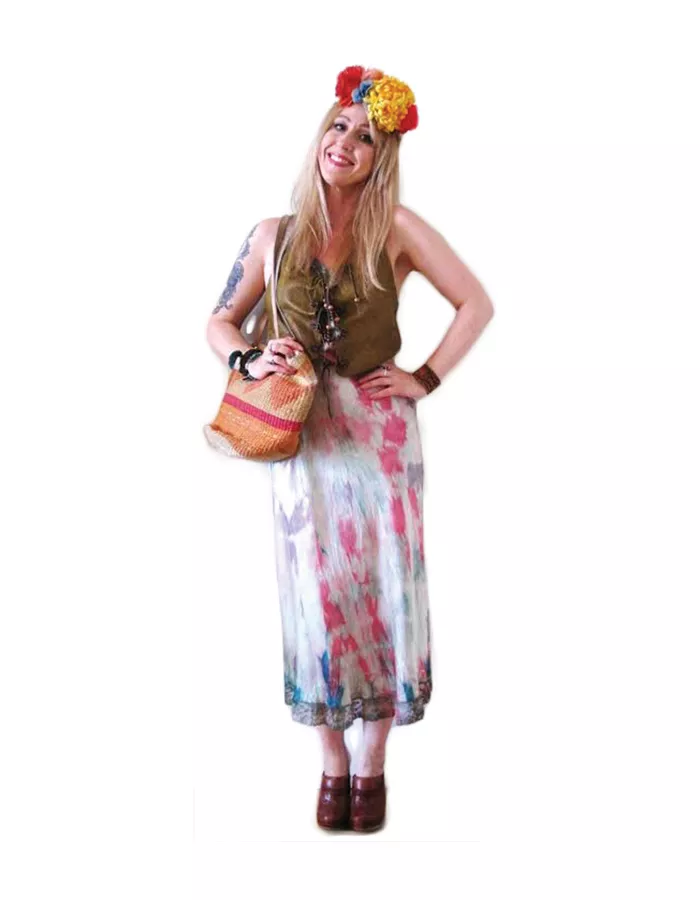 Whether you, like us, obsessively follow her Esty shop, or love her hand-dyed vintage slip dresses, chances are you know something of Cara Lundgren. The daughter of poster artist Carl Lundgren, she has quite an eye for color and composition. From bright, beautiful frocks to fun, flowery headbands, she's constantly sporting something eye-catching and lust-worthy. Lundgren can often be found showing her goods at Eastern Market on Sundays or simply hightailing it around town to hand-deliver purchases, and she always looks fabulous. We recently caught up with her and asked her about her favorite outfit as of late and, of course, she put together something spectacular, all of which is made or procured locally. Pro tip: Lundgren often empties her wardrobe into her Esty shop, so if you see her wearing something you love, we suggest checking etsy.com/shop/detroitdolly.
Hand dyed vintage silk slip dress … Dolly Rocker's Vintage And Handmade … $75
Vintage '90s woven ethnic bag … Dolly Rocker's … $20
Vintage '70s brown leather halter top … Boodle Factory … $5
Vintage brown leather clogs … Dolly Rockers … $40
Brown leather cuffs … Tooth And Nail and Featherheart Trading Company … $20 and $15
Hand beaded bracelets from Errol by Gregory Ducharme … free, traded for vintage
TOTAL...$175

Think you're all dolled up? Show off at [email protected].