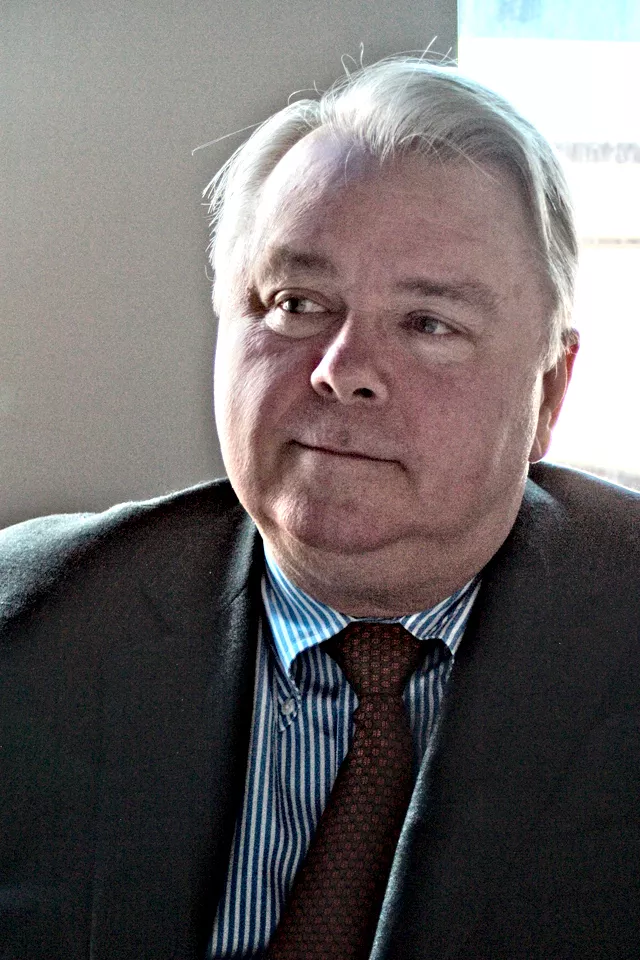 For more on the arts challenge and other Knight arts programs, visit knightarts.org. For the Knight Soul of the Community report, go to soulofthecommunity.org.
Every time he visits Detroit, wherever he goes — from the smallest artists studio to the Detroit Institute of Arts — Dennis Scholl finds himself overwhelmed with creative energy. 
An avid art collector, Scholl witnessed Miami's transformation from bit player to major-league arts hub, so he knows a thing or two about emergent scenes.
And as vice president for arts at the Miami-based Knight Foundation, he sees two new initiatives announced last week as significant ones for Detroit. Scholl and Knight's Detroit program director, Rishi S. Jaitly, stopped by the MT offices last week to talk about the foundation's new $19 million-plus plans for Detroit. 
The first $10.25 million will be doled out with $2.25 million each to the Detroit Institute of Arts, Detroit Symphony Orchestra, and Detroit School of Arts; $1 million each to the Michigan Opera Theatre and Sphinx Organization; and $750,000 each to the Arab American National Museum and the Charles H. Wright Museum of African American History.
Scholl explained that the institutions chosen for funding were picked because, despite the dismal economy, they've all made a tremendous effort to advance the arts and connect to the community in new ways.
For instance, the DIA will continue to expand its Inside-Out program, which takes art out of the museum and into the community. That includes reproductions of classics from the DIA's collection, which are displayed in public spaces. The DSO will expand its efforts at webcasting and mobile content delivery. The Detroit School of Arts will bring in working professionals from cultural institutions to mentor high school students. 
But in the second part of the program, things get really interesting. 
The Arts Challenge, which has been operating in Miami and Philadelphia for five and three years, respectively, offers the chance for anyone to get funding for an innovative arts project. Scholl and Jaitly say they hope to get proposals from all facets of the community, from individuals, collectives and more formal organizations. Artists books, award-winning independent films and many other innovative projects have been born out of the initiative. 
Starting in March, the foundation will accept applications of just 150 words or less, so choose your words wisely because they could mean big money. The only catch is that artists have to be confident enough in their idea to match the amount of money that Knight will grant them. 
Scholl said typical grants in the Miami and Philly have been in the $30,000 to $60,000 range. The foundation has invested $22.5 million in 180 projects.
Scholl believes these efforts will help what he calls the creative energy at the grassroots level being encouraged by other foundations and institutions in Detroit. The signs point to the emergence of the city as a cultural power center. 
Scholl travels a lot, and in his travels he's encountered a lot of people talking about Detroit's arts scene. 
"As somebody from the outside looking in, I've had the opportunity to come here over and over again. You feel it. I feel it when I talk to my international contemporary art friends; they don't want to talk about New York or anything — they want to know about Detroit. 'What's going on in Detroit?'" 
Scholl and Jaitly both referred to the foundation's "Soul of the Community" study on Knight's website: 
"After interviewing close to 43,000 people in 26 communities over three years, the study has found that three main qualities attach people to place: social offerings, such as entertainment venues and places to meet, openness (how welcoming a place is) and the area's aesthetics (its physical beauty and green spaces)."
Of those, Scholl said, "The No. 1 factor was the idea of social offerings, of the ways of connecting with people that are outside of economics, outside of all that, a way of connecting in a spontaneous and casual way. That's just kind of how we reinforced our strategy of coming to do this. People tell us that what creates community is the availability of these social offerings."
"We think the arts play a huge role in shared experience, connecting people to one another," says Jaitly. "So what you've seen in the past few years is us catching up to where Detroit is."
Scholl says that young people today tend to pick their community based on what's going on there culturally — then they find a job, rather than the other way around. 
So nurturing the arts community means growing the community in general, and there are other things that follow naturally — more people, more money, a growing economy, etc. At least, that's the hope. 
And Scholl and his colleagues seem to have plenty of it.
Emily Riopelle is a Metro Times editorial intern. Send comments to [email protected] 
Top: Free Gospel Sunday presents Miami's best gospel singers through an Arts Challenge grant. Other recipients have included an indie music shop that promotes Miami music and goods online, a Little League-style circuit for children's choral groups, and a series of books based on local artists. Above: Knight Foundation's Dennis Scholl.