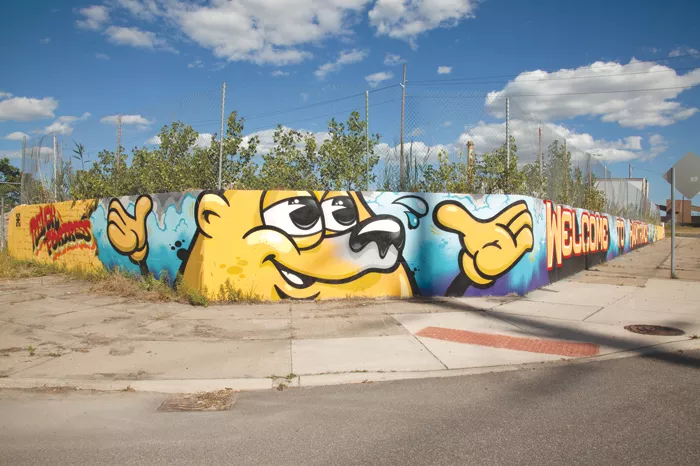 With its surplus of cheap housing, few of the, say, "distractions" of more cosmopolitan cities, and a legacy for breeding creative people, Detroit has long been touted as an offbeat, yet attractive place for artists. But one of the most unusual resources the city offers is itself — as a canvas. For years, artists from Detroit and beyond have been using the walls of abandoned buildings — or sometimes even using entire abandoned buildings — for creative expression. Canvas Detroit, out this week on Wayne State University Press, takes a closer look at some of the more intriguing ways artists have used Detroit as their medium.
Canvas Detroit could have easily just have been a photo book of Detroit street art. Instead, designer Julie Pincus and author Nichole Christian were determined to tell the stories of the people behind the art, as well as their individual motives. Some simply aim to make Detroit's cityscape a more visually appealing place — such as the Detroit Beautification Project, helmed by Matthew Eaton; that effort brought in some of graffiti art's biggest names from all over the world to transform the walls of Detroit and Hamtramck with top-notch street art. Others are less concerned with beauty and more concerned with making a political statement, like Tyree Guyton, who could be considered the godfather of using Detroit's blight as art, covering an entire neighborhood in polka dots, stuffed animals, and more since the '80s.
The book also takes a look at more fleeting works as well, such as the artists who encased a house entirely in ice in 2010 to make a dramatic critique on the nation's economic freeze. There's also Object Orange, a group of anonymous activists who painted blighted houses by night in bright orange around the time Detroit hosted the Super Bowl. Their work had a measurable effect — the city bulldozed a few of the houses almost immediately.
"The guiding principle was the artist using Detroit as their canvas," Pincus says of the artists they decided to cover. "It didn't matter if the artist was from Detroit or not. I know there's always been a pushback of the interlopers; they come, and they use Detroit, and they leave behind this stuff. There's a lot of controversy about that. We wanted to be mindful of who's been here doing the work all along."
Christian, a native of Detroit proper (approached to join the project through "six degrees of separation," according to Pincus) was apprehensive of helping out at first for that very reason. "For me, the challenge was being a Detroiter who was a little skeptical of the whole idea of new people coming to the city and remaking — or maybe skating past — all the foundation that has been laid out by other artists and other creatives," she says. "But once I sort of set that aside, I found it really fascinating and compelling to talk to each artist individually and see how they're part of this tapestry."
Pincus started the project as a bit of an outsider herself. She had moved to New York City seven years ago, but became obsessed with Detroit's myriad street art while in town five years ago working on a book for the Kresge Foundation's Eminent Artists project. "I was there for nine months, staying with my mother and working on Kresge and on the book," she says. It wound up being a dynamic moment in Detroit's street art scene, one that was continually offering Pincus new subjects. "This book couldn't have happened overnight. Things have changed so much in those five years. So many buildings have been torn down. A lot of the canvas is changing … It seems like it's changing at warp speed to me," Pincus says. As a result, Detroit is changing as well. "The artists are doing all this cultural infill work. They're doing stuff where Dan Gilbert wouldn't touch."
The temporal nature of street art is why a book like Canvas Detroit is so important. It's also important to catalog these artists because many of them seem more concerned with unleashing their own artistic bug than with promoting their work. Christian notes that although the various artists' mediums may be different, they're all united by a certain tenacity. "I think collectively what surprised me is the blinders that people put on to just do what they love," Christian says. "It's not like they have plush studios.
"One of the hardest parts of making this book was getting artists to spend time with me on weekends and on evenings, getting the artists to step away from their work long enough to tell their story," Christian says. "You have people who are internationally known, you have people who have no interest in being internationally known. They're just about their work. In that regard, they fit perfectly in Detroit, because Detroit is the hardest-working city in America. Some people forget that art is work too.
"I've always said Detroit is about the people. Detroit is the people," Christian says. "Behind every industry, behind whatever we did well and were celebrated for, there were people who were willing to just get things done — whether it's Motown, the assembly line, or our sports teams. They go to work, they get it done."
Pincus echoes the sentiment. "I think it's a positive book," she says. "It's not ruin porn. It's making lemonade out of lemons. [Detroit's] a tough city, but it's also got a lot of soul."
Canvas Detroit is available now on Wayne State University Press. A book release party is planned on May 7 at the Detroit Institute of Arts. Check out 22 photos from Canvas Detroit here.