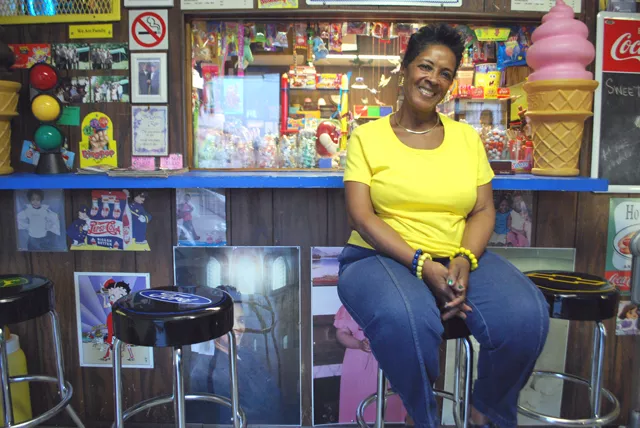 There aren't many bright colors left in this part of town. There's the green in the grassy fields along the main road. The gray of the streets. And the shades of brown on the wood houses whose paint has weathered away.
But in the midst of it all is this little place that beams with a rainbow's worth of sugary hues.
The Miracle Soda Shoppe, on Van Dyke near Nevada on the east side, stands out because it's so different from everything around it. It's quaint and old-fashioned and wholesome, surrounded by a rough, declining neighborhood.
Betty Jordan's store strives to be a classic soda shop — except for not having an actual soda fountain. But the essence of soda shops was always more than pop and ice cream. They conjure a comparatively innocent, simpler time. And Jordan believed this east side neighborhood, where she lived for decades, could use a dose of innocence.
This place is as much a functioning candy store as it is a tribute to a lost way of life. Step inside the door and walk to the old-fashioned candy counter, and hop onto one of the round stools. Take in the thousands of wrapped little treats in yellows and reds and greens, and the penny candies coated with crystals of sugar, and the sour pickles in a jar. Order a hot dog or a soft pretzel, or a slice of sweet potato pie made using an old Arkansas recipe. Admire the antique wall ads for Cracker Jack and Coca-Cola and Hershey's, and the kitsch that evokes another world.
Some things here aren't so nostalgic, though, like the magazine article explaining the history of Amos 'n' Andy taped to the wall, like the large photo of sharecroppers picking cotton in the Deep South way back when. And at the front of the store stand two life-size cardboard cutouts of Barack and Michelle Obama, presiding over this display of history, a touchstone to the present showing how far things have come since portrayals like Amos 'n' Andy. 
The iron bars on the door to the backroom and the bulletproof glass dividing the front counter serve as a reminder of other ways things have changed too.
The artifacts aren't just for the adults who remember them. They're also for the children who have no sense of their meaning and nowhere else to hang out in this neighborhood of liquor stores and overgrown parks. When Jordan has children in the shop, waiting for candy, she figures it's a chance to share with them something other than what life out here exposes them to. 
"I try to educate them on things they never heard of or ever dreamed of," she says.
Jordan doesn't even like candy. "I just wanted to sell it," the 63-year-old says. "I liked picking it out and looking at it and seeing what it could do. That's just me. That's what I liked."
She grew up in Arkansas, moved to Michigan, got married, and opened a successful tire business with her husband. But years there took a toll. She saw men get hurt, become crippled, even watched a man die on the job once. 
"The guy had a Cadillac. His name was Eddie Lee," she says. "Eddie Lee jacked the car up but he didn't lock the jack. And the guy was just carrying on a casual conversation with another man, and he put his foot on the jack and the car fell down on Eddie Lee and killed him right there. My husband picked that whole car up and dragged that boy from up under there, but he was dead."
Add to that the sight of workers getting their fingers sliced off by wayward tire rims, and she'd had enough.
"After seeing all that and all that noise I went back, I said, 'I'm going to go into candy.' I started preparing for this a long time ago."
She left the tire shop, became pastor of a little church, and found that the space she'd bought for her ministry was better suited for her lifelong dream of an old-fashioned store like the ones she saw as a little girl. She opened in 1999, closed after a fire, and reopened seven years ago.
No matter how genteel her shop's theme is, in a neighborhood like this there's little doubt about what kind of customers she's going to draw.
"I'm going to be honest. I made my money off of drug dealers," she admits. "And they love sweets. Drug dealers love sweets. I'm not too familiar why. It's just like a child. They love sweets, they love candy and stuff like that."
She doesn't open the shop until afternoon because few people in the area are out of bed before that, she says. "These people in this neighborhood, they get up maybe 12 or 1 o'clock. They're not early people. A lot of them don't work." 
That doesn't bother her. What does is that children out here grow up immersed in this life. 
One kid, whose father was a drug dealer, saw Jordan's daughter balancing a checkbook one day. He asked what she was doing. She explained she was depositing paychecks and balancing her checkbook. "Just like your daddy," she told him. The boy replied that his dad didn't work. That prompted Jordan to have a talk with the father. "I told him, 'You should tell your son you work. Even though you're selling drugs, you should tell him you work.'"
That kid already knew what was up, though. The boy's name was Henry, named after his dad, who went by the street name Hank, the same name the dad had been trying to bestow on the son. So when Jordan called the child Hank, he recoiled. "Pastor, I don't want to be called that." He didn't want to be identified with his father. 
Jordan explained the boy's wishes to his father. "I told him, 'He don't want to be called that.' I'm gonna just tell you how he said it. He said, 'Nigga, you don't want to be called that?' That's how he talked to him. That's just the way they talk to them."
Some kids come in hungry because their parents haven't fed them, and she gives them a meal. They eat it in the shop because if they take it home the parents sometimes take the food for themselves. 
Others come hang out because their parents didn't take them to class that day. "Some of these kids tell me that they didn't go to school 'cause their parents didn't wake them up. So they just didn't go to school. It's just like they're on their own. You're in a place where it's not that their parents don't care, it's that they're young, especially the single moms. These little girls come over, having all these babies.  I tell them, 'Why don't y'all take some birth control or something?' A lot of pastors don't agree with that, but I just tell them like it is."
You never know what chance encounter might steer these kids from their likely fate, she thinks.
"Most of these kids, they kind of raise themselves," Jordan says. "So I try to be educational with the young people. I'm in the hood, but just because you're in the hood don't mean you can't be intelligent. It's just a whole lot of stuff I do."
Terry Riley picks out pieces of candy a penny's worth at a time for the young customer on the stool at the window.
She's one of several volunteers who works here without pay. There's not enough money to be made in a candy store to hire paid employees. But between her two daughters and family friends, enough people believe in this shop to devote their time to this refuge from east side life. 
"Pastor Jordan ministers to them, and they know that she loves them and they feel that when they come here," says Riley. The 51-year-old met Jordan at the tire shop over two decades ago, and now attends her church, which is right next door to the shop. Jordan can count on one hand the number of regular worshippers who attend now, but Riley says that's OK because the candy shop serves the same purpose. 
"It's like a ministry," she says. "You're serving the community. When she first opened it was really rough. Some of the kids that came in were into lots of things, stealing and breaking into cars. But the personality of the kids has changed. It seems like they're more respectful."
One of the store's young customers comes in the door, hoists himself on a round stool and waits patiently in silence for someone to take his candy order. "That little boy out there now, that's Jacob," Jordan says of the 11-year-old. "Jacob used to be so bad. I mean, he was terrible — smart mouth, all kinds of stuff. I said, 'Jacob, you don't have to be like that. You're going to be a good boy.' And when he comes in here he's not like that."
She peeks around the corner. "Hey, Jacob," she shouts. "Yes, ma'am," he replies.
Detroitblogger John is John Carlisle, who scours the Motor City for his stories. Send comments to [email protected]