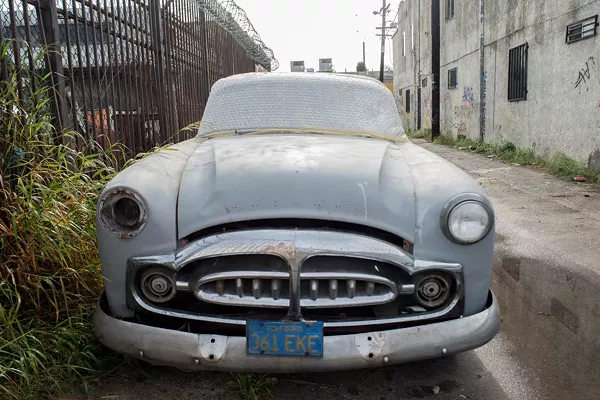 Over the past 25 years, award-winning ethnographer and photographer Camilo José Vergara has traveled annually to Detroit to document not only the decaying ruins but the urban art and folkways of the city's residents. For the last year, he's been talking up his "Shinola of the ghetto" concept, which is based on the idea that, if companies like Shinola can profitably trade on the fame of Detroit's automotive, industrial yesteryears, what's stopping people from celebrating the more current art of the neighborhoods? What about the vernacular design created by the city's largely African American residents?

Of course, that's been something Vergara has had an ongoing fascination with. In fact, his latest book of photography,
Detroit is No Dry Bones
, zooms right in on the city as a rich library of DIY artifacts. Plus, given an eye for art history and as the recipient of a MacArthur genius grant, he easily straddles the line between "New Detroit" and the old neighborhoods. For instance, the gritty photos he's snapped on Detroit's streets can be found on sale at Shinola stores in Ann Arbor and Detroit. (See more of them at his website, camilojosevergara.com.)

Sometimes Vergara will find there's more to his photographs when he looks them over later with friends and associates. That's exactly what happened with one snapshot in which Vergara found classic Detroit auto design, an inner-city environment, and the influences of classical African art. It's one of those interesting stories only somebody like Vergara can tell.
=============================================
Vergara: Two years ago, I found a classic Packard automobile in an alley in South Los Angeles. Weeds were beginning to cover its hood. It still had its California license plate, one headlight was left, its tires were flat and it was sinking. A Mexican mechanic saw me photographing it and asked me if I wanted to buy it.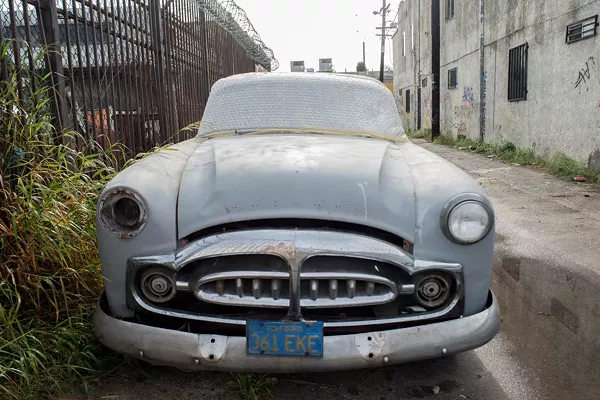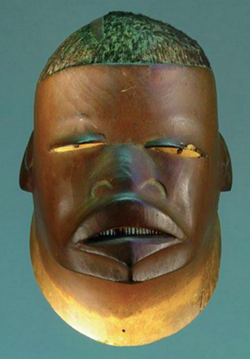 I was wondering why I liked this semi-derelict 1953 Packard so much. Perhaps it was because it looked so fierce and proud.
My friend, cartoonist Ben Katchor, pointed out to me the eerie similarity between the 1950s car and an anonymous African mask shaped like an acorn.
Ben explained that at that time everybody in design was looking at African art. The front end of the car is an organic shape, the face of a car with lips, a grill like a mouthful of teeth, headlights like eyes. The super rational world of 1950s Motor City high-tech and aerodynamic design and the shamanistic world of African tribal art come together in this once-luxurious automobile.